Download the Hatchback Car Side View PSD Mockup – your key to professional automotive design. This ultra-realistic template captures every detail of a hatchback car similar to the in-demand model. It's a design powerhouse, meticulously replicating the car's features, from tires to lights, with lifelike lighting and textures. Who stands to benefit? Graphic designers seeking impeccable car design presentations, automobile aficionados desiring to showcase their vision, and marketing professionals aiming to make a statement. Why a side view? It offers a clear profile, ideal for highlighting car designs, branding, or advertisements. Besides, it's versatile for various automotive projects.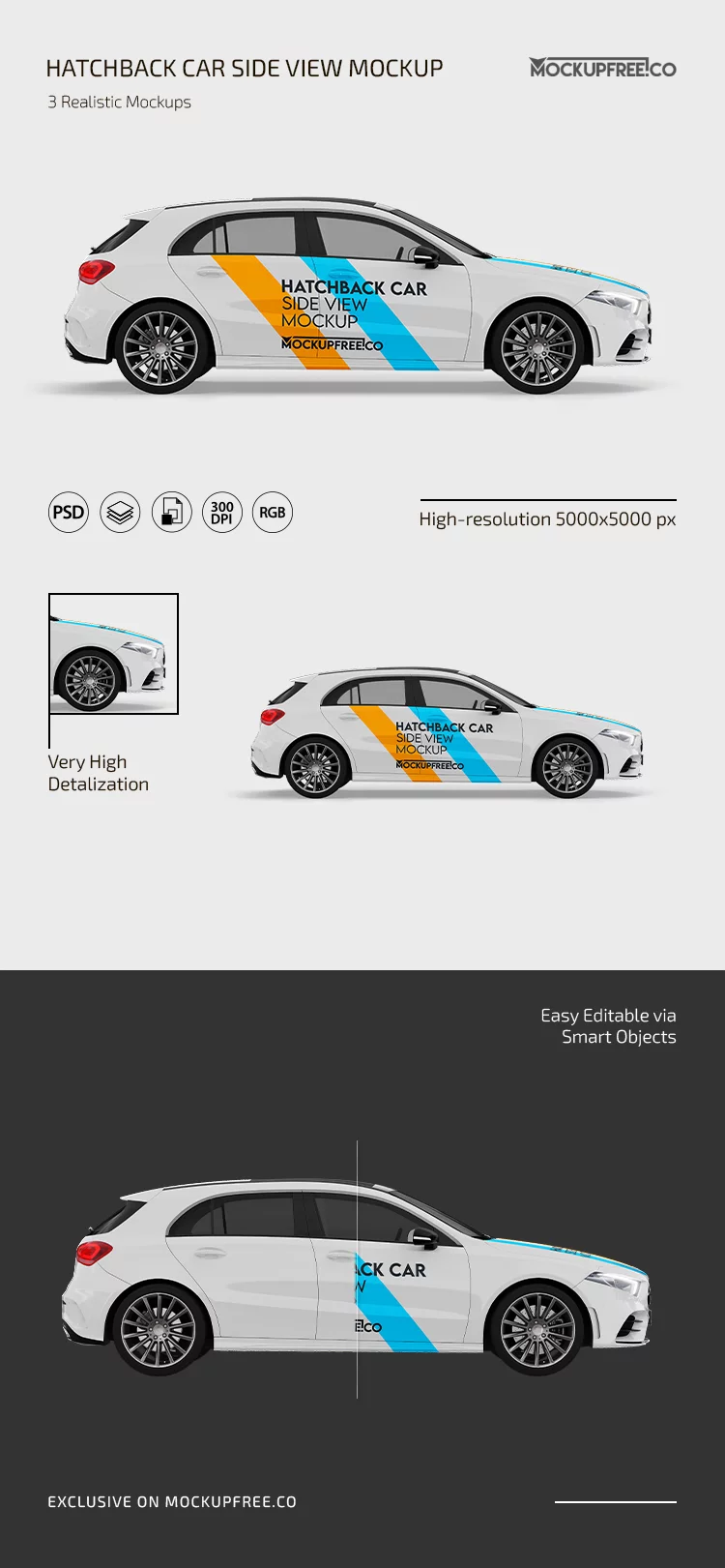 How can you personalize the Hatchback Car Side View PSD Mockup?
Customizing the car Top View model in Photoshop is straightforward and quick. Firstly, as you open the PSD file, you'll discover well-labeled layers for each element, from the car body to the lighting. Employ smart objects to effortlessly swap existing designs with your own, such as logos, images, or text. In particular, you can adjust colors and highlights to align with your brand's aesthetics. Delve into experimenting with materials and textures to reach the desired effect. With its organized layers and user-friendly tools, this mockup is highly effective for both seasoned designers and beginners. Enjoy tailoring it to your specific vision!
Why should you download the Hatchback Car Side View PSD Mockup?
Download the Hatchback Car Side View PSD Mockup now! Whether you're a seasoned designer or just starting, our model provides a solid foundation for your creative endeavors. Graphic designers, auto enthusiasts, and marketing professionals will all benefit from getting this sample. Since the template is incredibly versatile, it'll easily adjust to suit your specific project. The meticulous attention to tire, light, and car part detailing, coupled with lifelike lighting and texture replication, guarantees an impressive result. Best of all, it's available with a royalty-free license, making it accessible for various projects and businesses. Download this PSD package today and elevate your car-related creations to the next level!