Download the Hatchback Car Back Half Side View PSD Mockup now! This versatile and detailed template accurately mirrors a popular car model. Its realism shines through precise tire, light, and car part detailing, along with lifelike lighting and texture replication. Graphic designers, car enthusiasts, and marketing professionals will find this model invaluable. It presents car designs, branding, and advertisements from a unique back half-side perspective, offering a fresh and dynamic view that captures attention.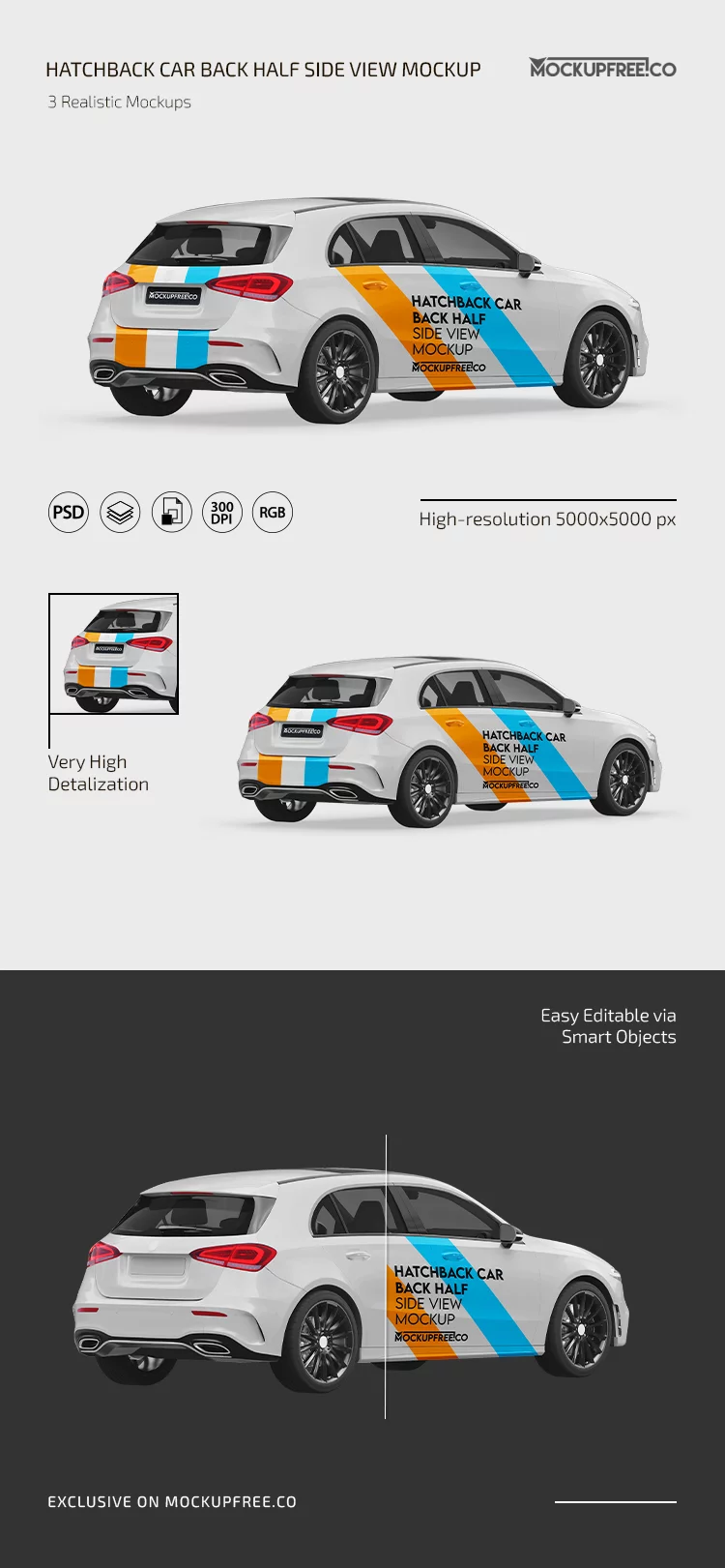 How can you personalize the Hatchback Car Back Half Side View PSD Mockup?
Personalizing this hatchback car's back half-side view mockup in Photoshop is a breeze. Firstly, in the PSD file, you'll discover well-labeled layers for each element, covering everything from the car's body to the lighting. Smart objects surely make it a snap to substitute existing designs with your creations. Furthermore, you can fine-tune colors, shadows, and highlights to align with your brand's visual style. Don't hesitate to explore various textures and materials for your desired look. Thanks to organized layers and intuitive tools, tailoring this template is a smooth process, suitable for both experienced designers and newcomers.
Why should you download the Hatchback Car Back Half Side View PSD Mockup?
Download our Hatchback Car Back Half Side View PSD Mockup! This exclusive mockup is effortlessly customizable in Photoshop. Graphic designers and marketers will surely appreciate its versatility. Featuring a hatchback car from this angle allows for creative and engaging presentations, and makes it ideal for showcasing car-related projects, services, or products. With a royalty-free license, this product surely is an effective solution that will elevate your work. Don't miss the chance to make your car-focused projects stand out – download it now!