Download our Hatchback Car Half Side View PSD Mockup to elevate fresh automotive designs! Our incredibly realistic template features a half-side view of a hatchback inspired by a popular model of a famous brand. This mockup's attention to detail, from the tires to the lights, ensures a professional presentation. Meanwhile, accurate lighting and lifelike textures further enhance its realism. Whether you're an automotive designer, marketer, or car enthusiast, this template will make your projects shine. Finally, the half-side perspective showcases the car's sleek lines and curves, adding depth and dimension to your designs. Drive your creative vision forward with this exceptional mockup and leave a lasting impression!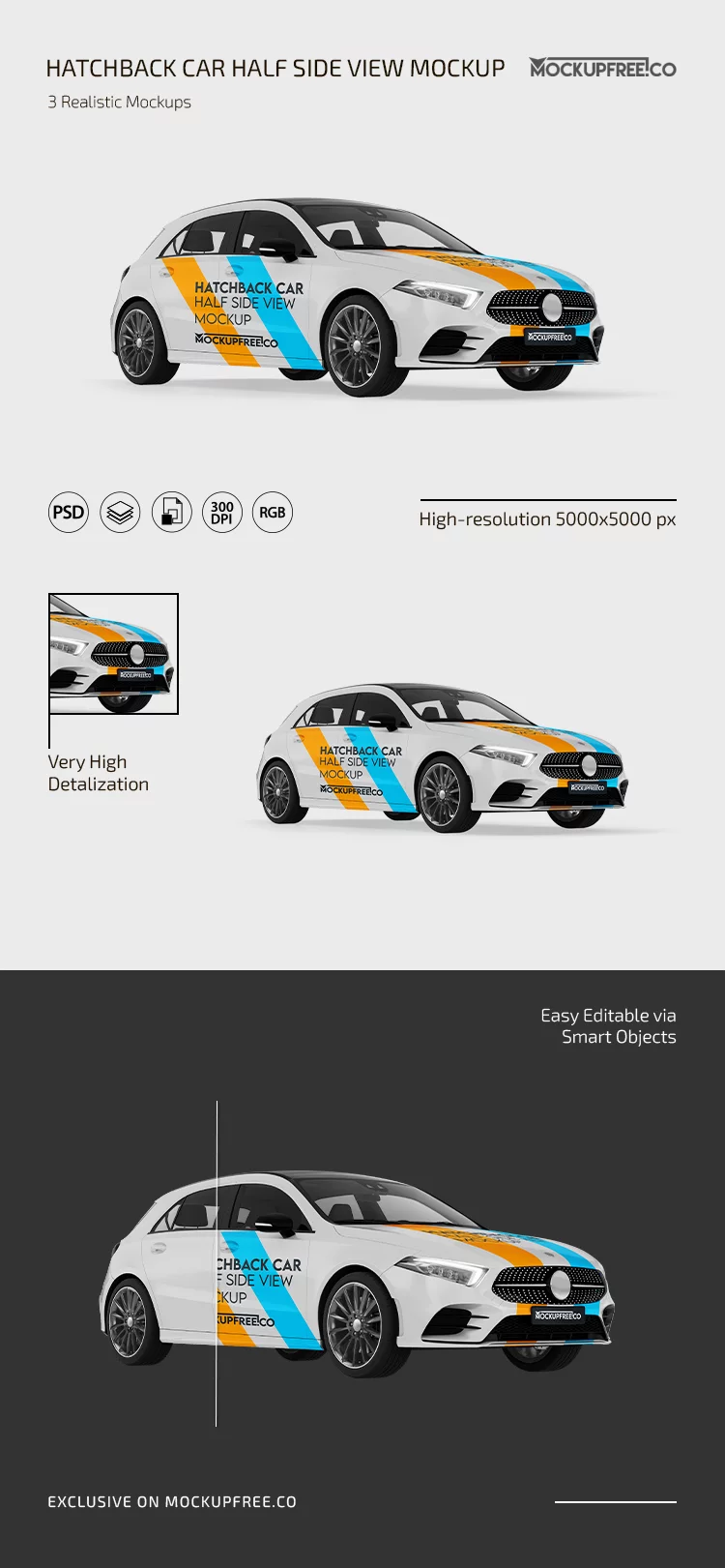 How can you personalize the Hatchback Car Half Side View PSD Mockup?
To personalize this hatchback car mockup in Photoshop, follow these simple steps. Firstly, open the PSD file, and find well-organized layers for different parts of the car. Now you can easily replace the car's body color, add your branding or design to the vehicle, and customize the license plate. Additionally, adjust lighting, shadows, and reflections for a realistic look. Besides, we recommend you experiment with different backgrounds to match your project's style. With intuitive tools and organized layers, customizing this mockup is trouble-free, whether you're a seasoned designer or just starting out. Your automotive designs will come to life effortlessly!
Why should you download the Hatchback Car Half Side View PSD Mockup?
Download our Hatchback Car Half Side View PSD Mockup now! This exclusive deal offers a powerful and completely customizable design tool. It's a must-have for graphic designers, car aficionados, and marketing experts. Presenting the car from a half-side angle guarantees a dynamic perspective, perfect for displaying design ideas or promotional content. Besides, there's no licensing cost! With a free license, you can surely incorporate this sample into any project. Don't pass up the opportunity to elevate your car-related presentations and designs – it's all yours!