Download the Cargo Minivan Back Half Side View PSD Mockup! This meticulously detailed and editable car model faithfully replicates a cargo minivan akin to the renowned Mercedes-Benz Sprinter. Without a doubt, the product's remarkable realism, intricate detailing, and lifelike texturing create an impressive visual impact. Noteworthy for its unique perspective, it highlights the minivan's spacious cargo area, catering to businesses in need of efficient and reliable transportation solutions.
What's great, this sample gives you the ability to effortlessly personalize your brand's graphics on the vehicle's surface via Photoshop. Therefore, it's ideal for showcasing cargo or delivery-related products and services. Don't miss out on this unique offer as it will undoubtedly give you a visual professional edge!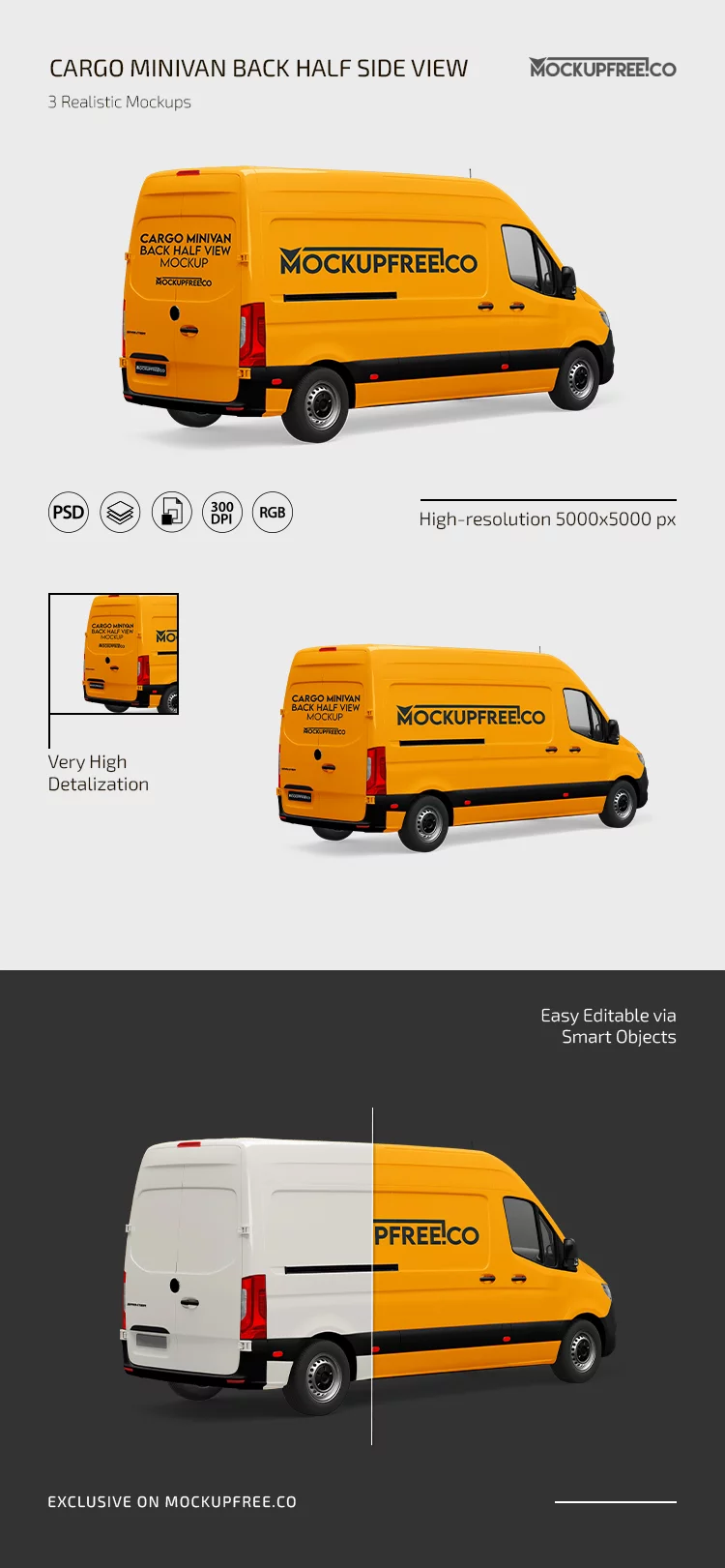 How can you adjust this product?
In Photoshop, personalizing the cargo minivan mockup's back half-side view surely is a simple process! Firstly, you can replace the existing graphics with your branding and designs. You'll easily match the vehicle's appearance to your project's needs. It's important that the psd mockup has clear layers for separate editing, simplifying changes to colors, logos, and text. In order to enhance realism, you can adjust lighting, shadows, and textures. This way, you'll achieve a customized look without advanced design skills. The user-friendly interface in Photoshop ensures accessible editing, making it ideal for various projects.
Why should you download the Cargo Minivan Back Half Side View PSD Mockup?
Have no doubts as you download our Cargo Minivan Back Half Side View PSD Mockup! This exceptional quality and precise detailing make it a powerful tool for promoters, producers, and designers alike. The biggest perk of using this sample is stress-free Photoshop editing. With just a little effort, you'll transition smoothly from the initial mockup to a personalized, professionally tailored visual. The full licensing is yet another advantage of opting for this top-class offer. Don't waste a moment, and get our Cargo Minivan Mockup now!