Get the Free Billboard Mockup Download PSD bundle! This product is perfect for displaying your advertising creations. It's available in PSD format exclusively on mockupfree.co. The three mockups that our team created from scratch surely look professional and realistic. In particular, they feature a minimalist huge vertical billboard stand with four spotlights over it at a high resolution of 5000×5000 pixels. With the variety of available angles, these samples grant you plenty of options for showcasing your work. Thanks to the free license, you can use it for both commercial and non-commercial purposes. However, we should ask you about an attribution unless you are a premium member of the site.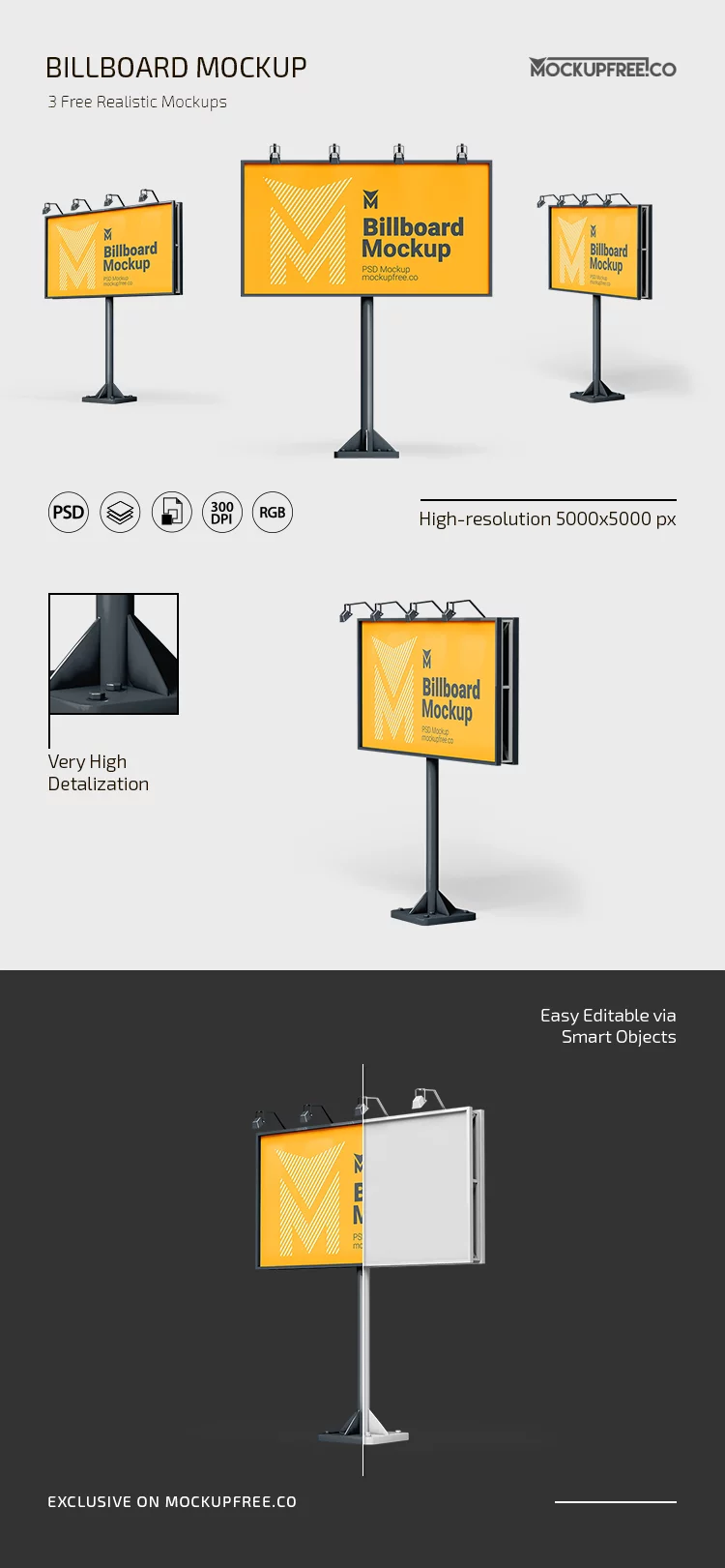 How can you edit the Free Billboard Mockup Download PSD set?
Since all layers in the Free Billboard Mockup Download PSD are fully adjustable in Photoshop, you can personalize them fast and without much hassle. Simply follow this basic plan:
Open the PSD file in Photoshop.
Locate the layers panel on the right side of the screen.
Expand the layers panel to reveal the different layers that make up the mockup.
Find the layer you want to edit, such as the background or the billboard itself.
Click on the layer to select it, and then use the tools in Photoshop, such as the paint bucket tool or the brush tool, to make changes to the layer.
You can also double-click on the layer thumbnail to open the layer style dialog, where you can adjust the layer's color, add a gradient, add a pattern, or apply other effects.
Repeat the process for any other layers you want to edit.
When you're finished making changes, you can save the edited mockup by going to File > Save or File > Save As.
Remember to save your changes regularly as you work to avoid losing any progress.
Why should you use the Free Billboard Mockup Download PSD kit?
Make sure the Free Billboard Mockup Download PSD set! With it, you get free access to three top-quality, adjustable PSD samples. With high resolution, precise detailing, and a range of angles, this kit will aid you in visualizing your fresh design projects. Besides, with the free license, you can utilize our templates for both your business and personal needs. Don't hesitate, get this excellent product now, and enjoy personalizing the three samples in Photoshop.