Download the Free Subway Billboard PSD Mockup Bundle now! This top-notch product offers three ideal samples of a simple, horizontal billboard on a subway wall adorned with tiles. Two models display the billboard from different angles, while the third template showcases a pair of identical items side by side. Thanks to the accurate imitation of glossy frames and tiles, our mockups impress with a realistic look. What's great, you can effortlessly adjust these powerful presentation materials to elevate your projects!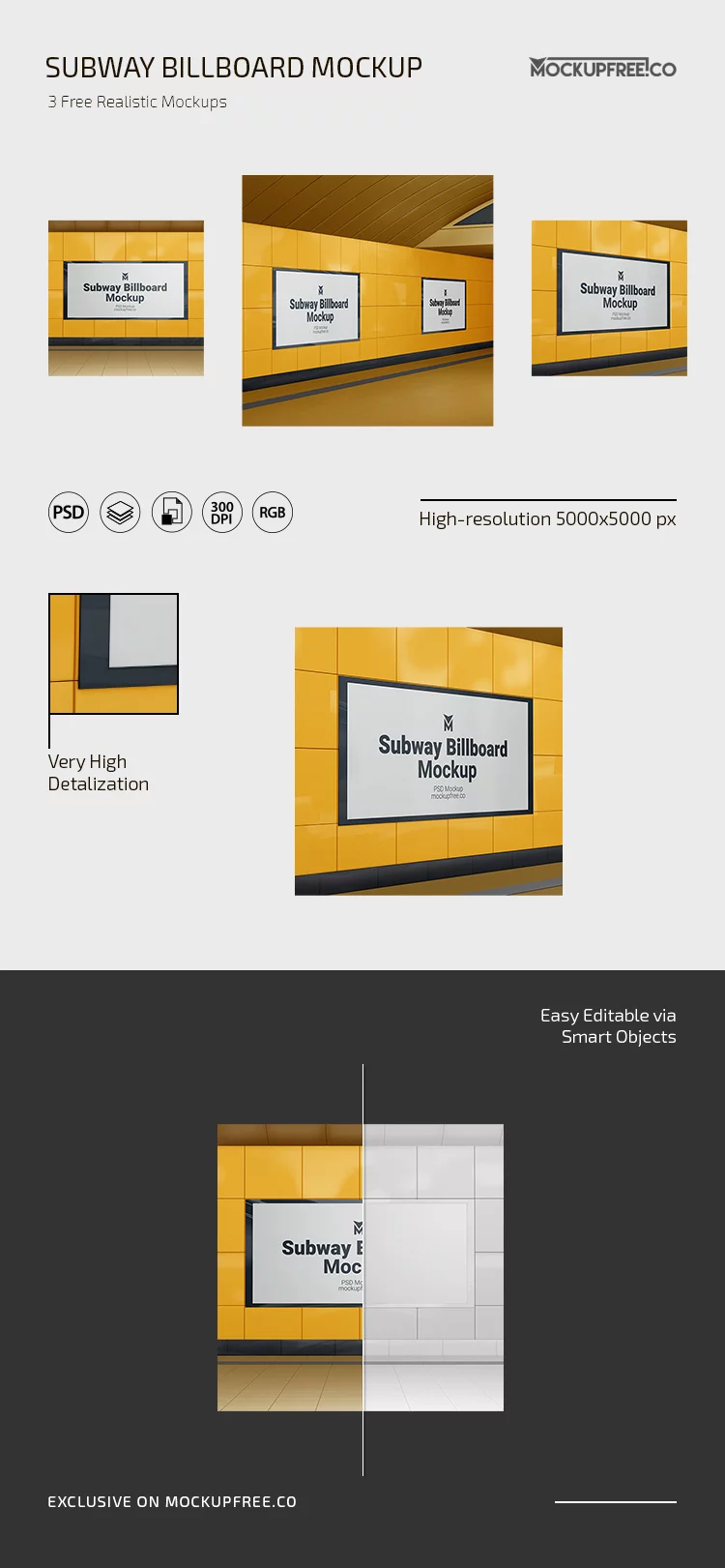 Who can benefit from downloading this set?
The benefits of using these templates are numerous. For instance, marketers and advertisers can visualize their brand campaigns in a subway setting, presenting captivating visuals to clients and investors. Meanwhile, designers can effortlessly showcase their creative concepts and portfolio pieces in a dynamic urban environment. Besides, transit authorities and outdoor media companies can impressively display ad placements to potential advertisers.
How can you edit the Free Subway Billboard PSD Mockup Kit?
Firstly, we recommend you replace the sample design with your creation. Simply drag and drop the artwork – and it will adjust seamlessly via smart layers. Secondly, you can feature a company logotype, a unique lettering design, icons, and other elements. Besides, there's an option for editing the palette of the billboard and its frame, the tiles on the walls, the floor, and other details. What's important, you move, delete, and scale up the object – this will allow you to achieve a completely personalized look of the mockups. Conclude customization by adding a backdrop image, and the necessary text.
Why should you download the Free Subway Billboard PSD Mockup Bundle?
Download the Free Subway Billboard PSD Mockup Kit with a click, and ensure success in your future presentations! Since the product is free, you won't have to spend an extra dime using it. With the photo-realistic quality and easy customization in PSD, the three models are a must-have addition to anyone's design arsenal. They will aid those seeking an impactful and realistic way to visualize billboard advertisements in a subway context. And with the free license, you can utilize our samples to pursue commercial or any other goals.