Download the Free Shirt Mockup PSD Template package to make your fashion and apparel designs shine! These mockups feature the front view of a meticulously folded men's buttoned-up shirt, complete with a classic collar. With two of the templates including a tie, you have the flexibility to showcase a range of formalwear designs. Meanwhile, the third mockup focuses solely on the shirt, allowing you to emphasize its unique details. Whether you're a fashion designer, a clothing brand, or a print shop owner, these materials are ideal for showcasing your creations in a captivating and professional manner. The lifelike detailing and adjustable features make it easy to visualize your creative ideas. Impress your customers and audiences with stunning visuals, whether it's for marketing needs, e-commerce listings, or your portfolio.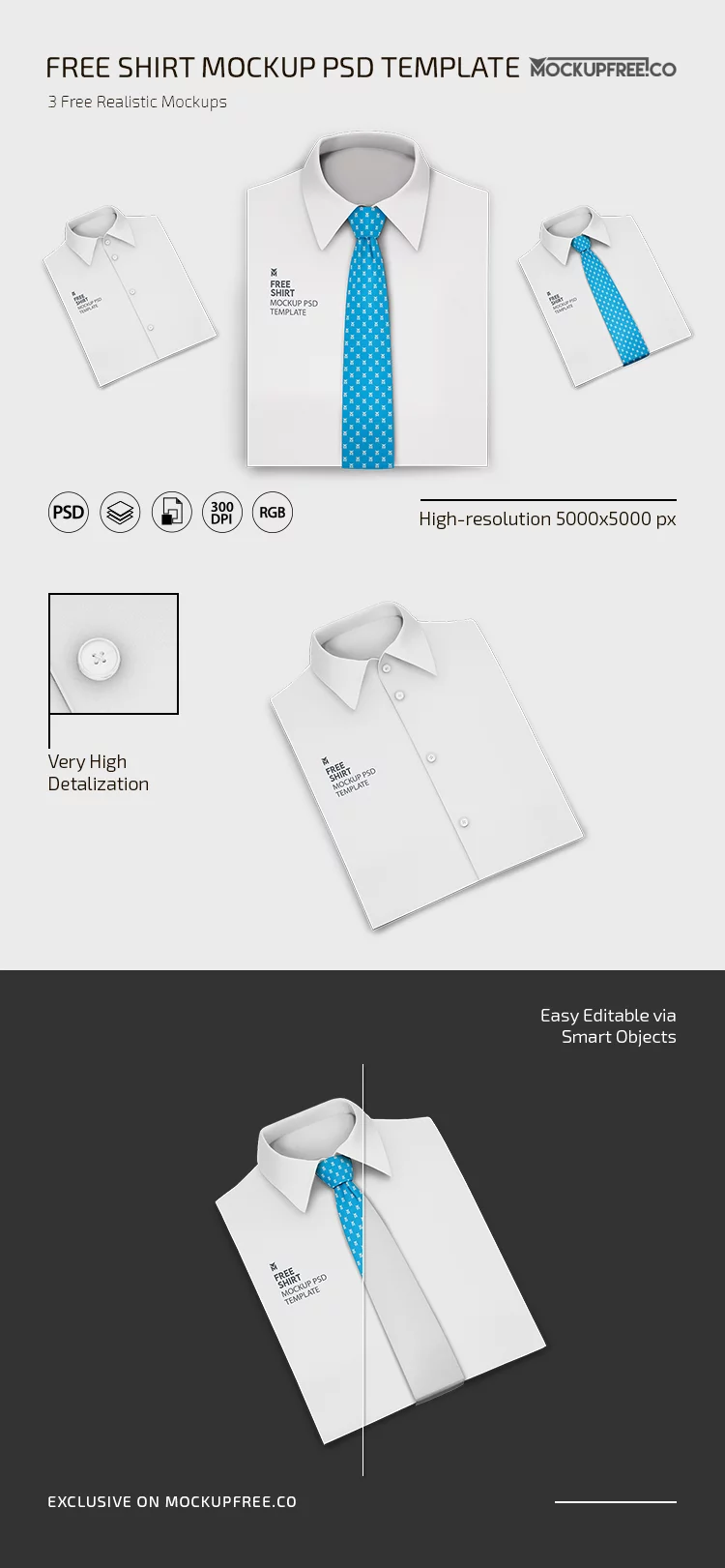 How can you edit the Free Shirt Mockup PSD Template Kit?
Customizing these shirt mockups in Photoshop is a straightforward process suitable for designers of all skill levels. To begin with, open the PSD file, where you'll find well-organized layers for each element – the shirt, collar, and tie. Secondly, employ smart objects to effortlessly replace the existing design with your own, whether it's a personalized pattern or logo. Besides, tailor the colors, shadows, and highlights to harmonize with your brand or project's distinct style. With intricate textures and true-to-life lighting, these samples offer a remarkably professional finish. What's more, these materials boast user-friendly tools and impeccably structured layers, ensuring that customization is a seamless experience for designers, whether seasoned or just starting out. Your shirt designs will undoubtedly captivate with these true-to-life templates.
Why should you download the Free Shirt Mockup PSD Template Pack?
Download the Free Shirt Mockup PSD Template package to make your fashion and apparel designs shine! This collection comprises three incredibly realistic and versatile mockups, offering ease of customization. Designers, marketers, and branding experts can all benefit from these resources because they cater to a wide array of project needs. The best part? Our package comes with a royalty-free license and is completely free. Therefore, it will become a valuable addition to your toolkit. Don't miss out on this opportunity to elevate your apparel, textile, and branding design presentations!