Download the Free Outdoor Advertisement Billboard PSD Mockup Kit! In it, we've gathered three stunning PSD models featuring a long outdoor billboard with numerous spotlights. The billboard stands on three pairs of sturdy metal stands. Thanks to varying angles, realistic lighting, and accurate imitation of textures, this mockup kit is a powerful design instrument. The essential advantage of our samples indeed is their full compatibility with Photoshop. You can visualize your fresh advertising designs even without advanced Photoshop adjusting skills. And with the free license that we provide, you have the freedom of utilizing the three models both for your personal needs and commerce.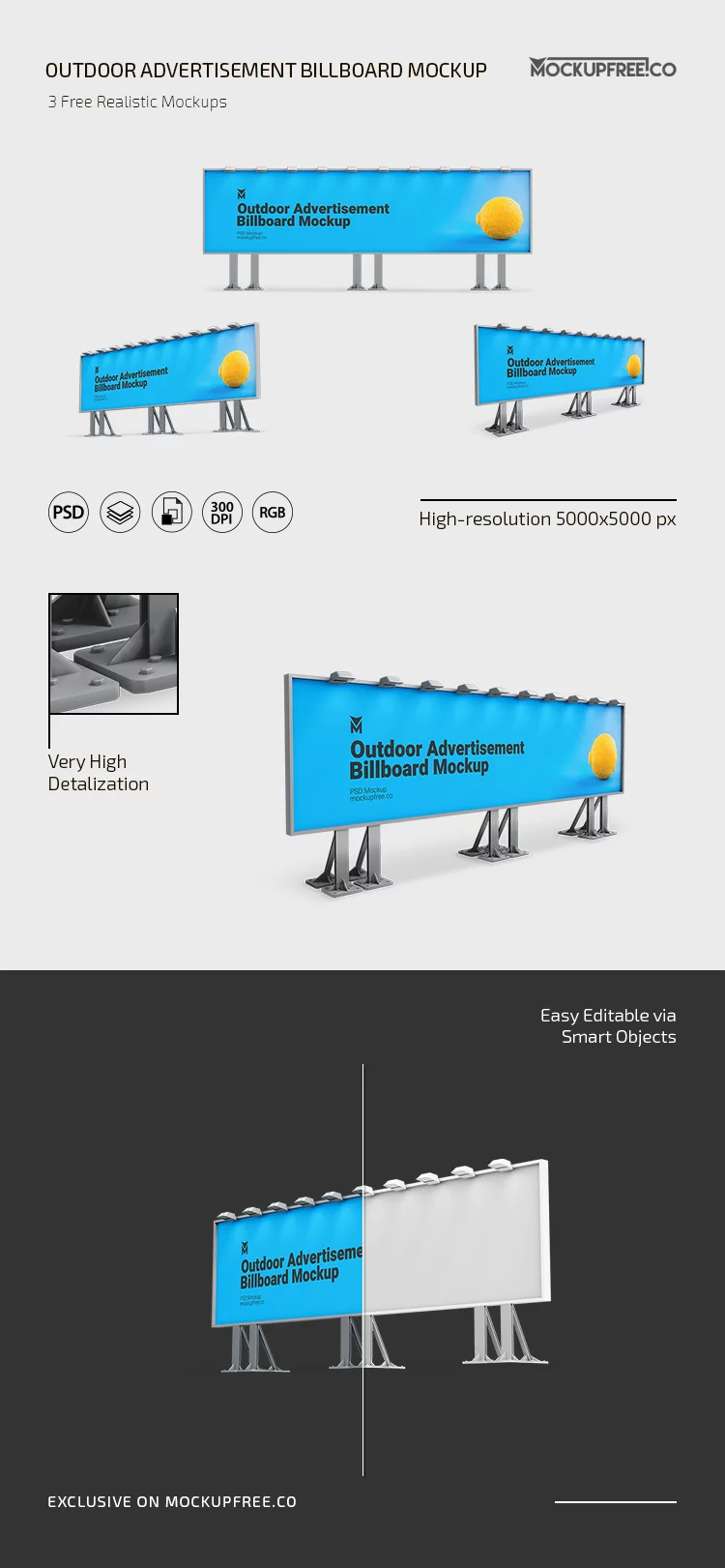 Who will benefit from using this mockup set?
The benefits of using these templates are immense: marketers and advertisers can envision their brand campaigns on a grand scale. Besides, outdoor media companies can impressively display potential ad placements to advertisers, winning them over with striking presentations. In addition to that, graphic designers can use these mockups to create portfolio pieces or showcase their creative concepts for billboard designs. With easy customization in PSD, this bundle is ideal for anyone seeking an impactful and realistic way to visualize outdoor billboard advertisements.
How can you adjust the Free Outdoor Advertisement Billboard PSD Mockup Pack?
Customizing this mockup bundle in Photoshop indeed is a breeze! Firstly, users can easily replace the billboard design by dragging and dropping their artwork through smart object layers. Secondly, one can adjust the lighting and shadows to achieve a realistic effect, and enhance the visual impact of the advertisement. Besides, with the organized layers and labeled folders, it's possible to edit the spotlights and metal supports. Finally, you can change the background or add custom elements to blend the billboard seamlessly into various outdoor scenes.
Why should you download the Free Outdoor Advertisement Billboard PSD Mockup Kit?
Download our Free Outdoor Advertisement Billboard PSD Mockup Pack, and elevate the advertising game with this set of three exclusive, adjustable models. Whether you're a marketer, advertiser, or designer, you can effortlessly personalize this pack. It will surely help you bring the billboard projects to life and impress your audience. Enjoy the impeccable quality and precise detailing of our materials, and meet no limitations with the free license. Go ahead, and get the pack now!