Download the Free Mini Pouch Bag Mockup PSD Template Kit! This versatile set of three packaging models provides a life-like portrayal of a foil pouch bag, complete with hermetic sealing. Perfect for businesses and designers, these samples will aid you in showcasing your packaging, branding, or product designs impressively and realistically. Since our pros crafted these materials with attention to detail, they accurately imitate texture and lighting. This certainly will add a professional touch to your project. Whether you are in the food industry, cosmetics, or any other field, our samples are ideal for presenting your products on websites, marketing materials, or portfolio pieces.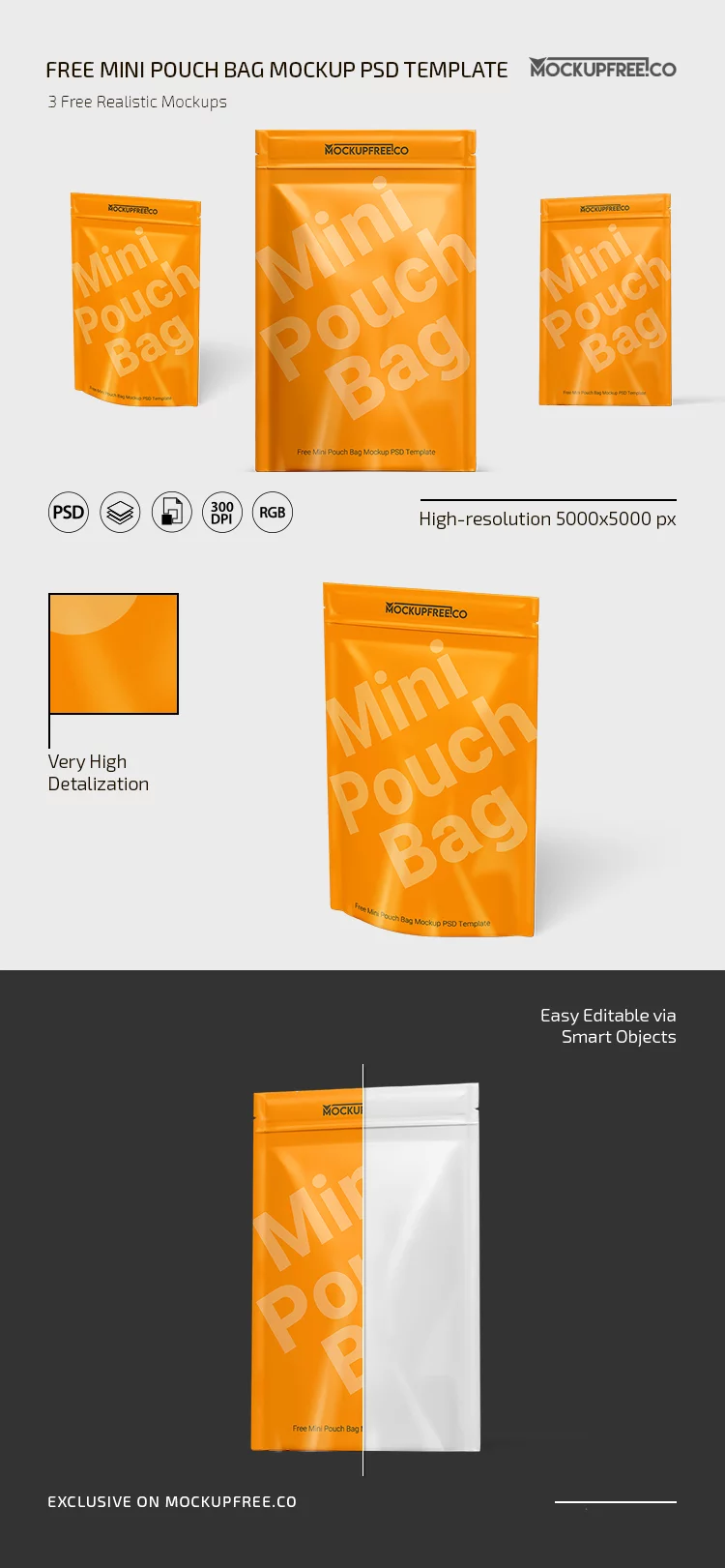 How can you customize the Free Mini Pouch Bag Mockup PSD Template Pack?
Begin by opening the file and locating the layers for each element: the pouch bag, foil texture, and sealing hatch. Proceed by easily replacing the pouch bag design with your own branding or product artwork using smart objects. Additionally, you can adjust colors, shadows, and highlights to match your desired aesthetic. For personalization, modify the sealing hatch or add custom graphics. Thanks to organized layers and intuitive editing tools, tailoring these mockups to your project is a simple and seamless process. Personalization is accessible to both beginners and experienced designers.
Why should you download the Free Mini Pouch Bag Mockup PSD Template Bundle?
Download our Mini Pouch Bag Mockup PSD Template collection for free today! Inside, you'll find three top-tier models that excel at presenting products and branding in a realistic, stylish manner. Elevate your client presentations effortlessly with these mockups. Whether you're a seasoned pro or a beginner, you'll appreciate the simple and speedy customization process in Photoshop. Besides, our offer includes a free license and easy accessibility, making it a fantastic deal. Don't wait another moment, and get our superb package now!