Download our Free Hatchback Car Front View PSD Mockup now! This meticulously detailed and easily customizable template surely is a game-changer for car enthusiasts, designers, and marketers alike. The stunning realism is achieved through intricate attention to detail, from the tires to the lights. Besides, precise lighting effects and texture imitation add up to a professional look. As for the front perspective, it provides a clear and impactful presentation of the car's design. Therefore, our model is ideal for design exhibitions, advertisements, and branding initiatives. It allows viewers to fully appreciate the car's front-end features and intricate details.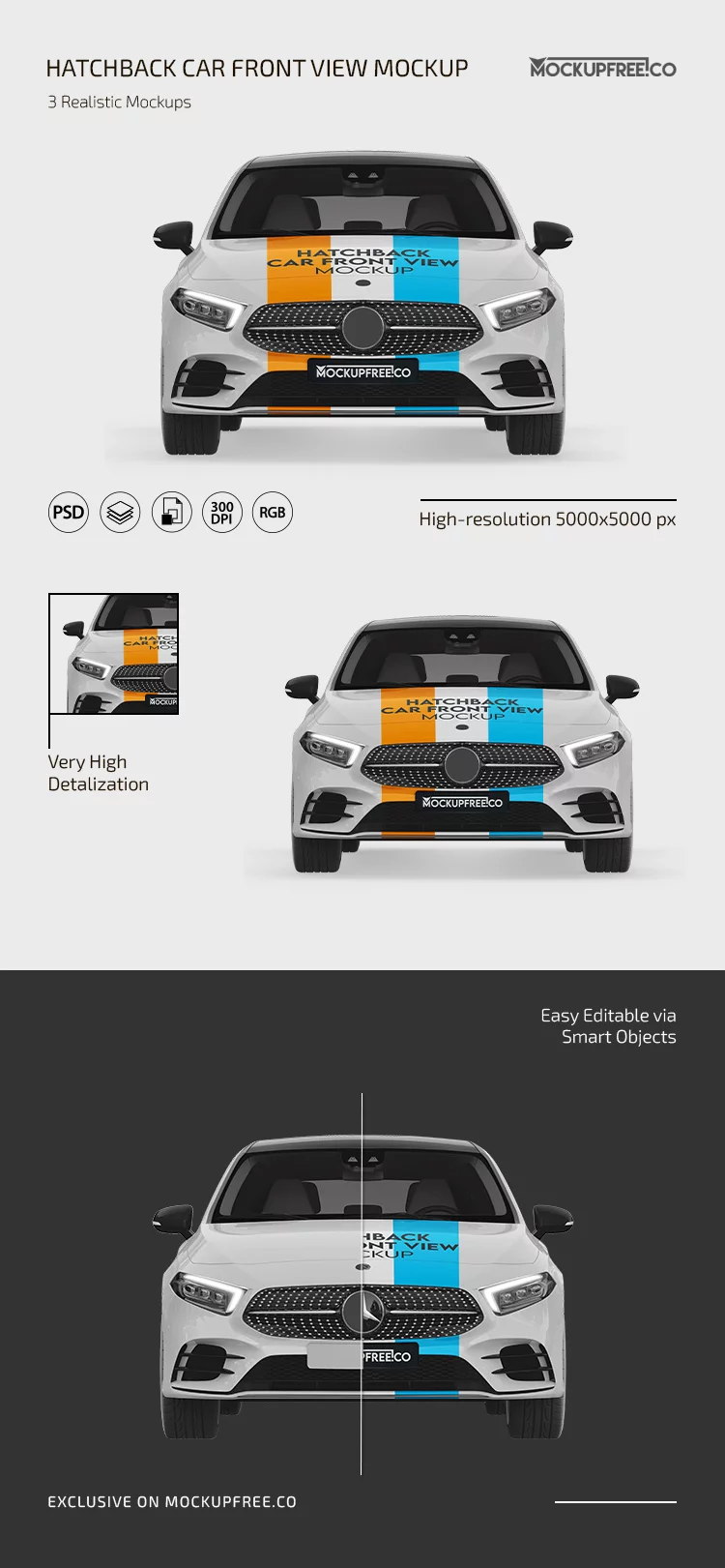 Who can benefit from this template?
Graphic designers will find it invaluable for showcasing their car-related design projects. Meanwhile, car enthusiasts can use it to visualize modifications or simply appreciate the aesthetics of the popular car model. Meanwhile, marketers can leverage this mockup for advertisements and promotional materials.
How can you edit the Free Hatchback Car Front View PSD Mockup?
To begin with, open the PSD file, where you'll find organized layers for easy navigation. Use smart objects to replace the existing design with your own car-related graphics or branding elements. Additionally, you can fine-tune colors, lighting, and shadows to match your project's aesthetic. Besides, it's possible to experiment with various textures and materials to achieve the desired visual effect. With Photoshop's intuitive tools, both novices and seasoned designers can modify this model effortlessly.
Why should you download the Free Hatchback Car Front View PSD Mockup?
Download our Free Hatchback Car Front View PSD Mockup today! Since this top-class product is easily adjustable in Photoshop, it's ideal for graphic designers, car enthusiasts, and marketing professionals. Featuring the car from the front view offers a dynamic perspective, ideal for showcasing car designs, branding, and advertisements. Thanks to precise detailing, our template provides a realistic and professional look, accurately replicating car elements like tires, lights, and textures. With a royalty-free license, it's a cost-effective solution for various projects. Don't miss the chance to enhance your car-related presentations and designs – it's available for free! Grab this template now to make your car-focused projects stand out.