Download the Free Business Card PSD Mockup bundle! If you're looking for an unusual business card mockup, our product is exactly what you need. In this set, you'll find three excellent adjustable PSD samples of a basic rectangular card. To make them look uncommon and catchy, we added a metal clip that holds the card at a slanted angle. Thanks to the unusual composition, these samples immediately stand out from the rest. Besides, the meticulous detailing of the cardboard and the metal texture makes them look profound and life-like. Finally, the ease of Photoshop personalization makes these materials easily accessible for both pros and design newbies.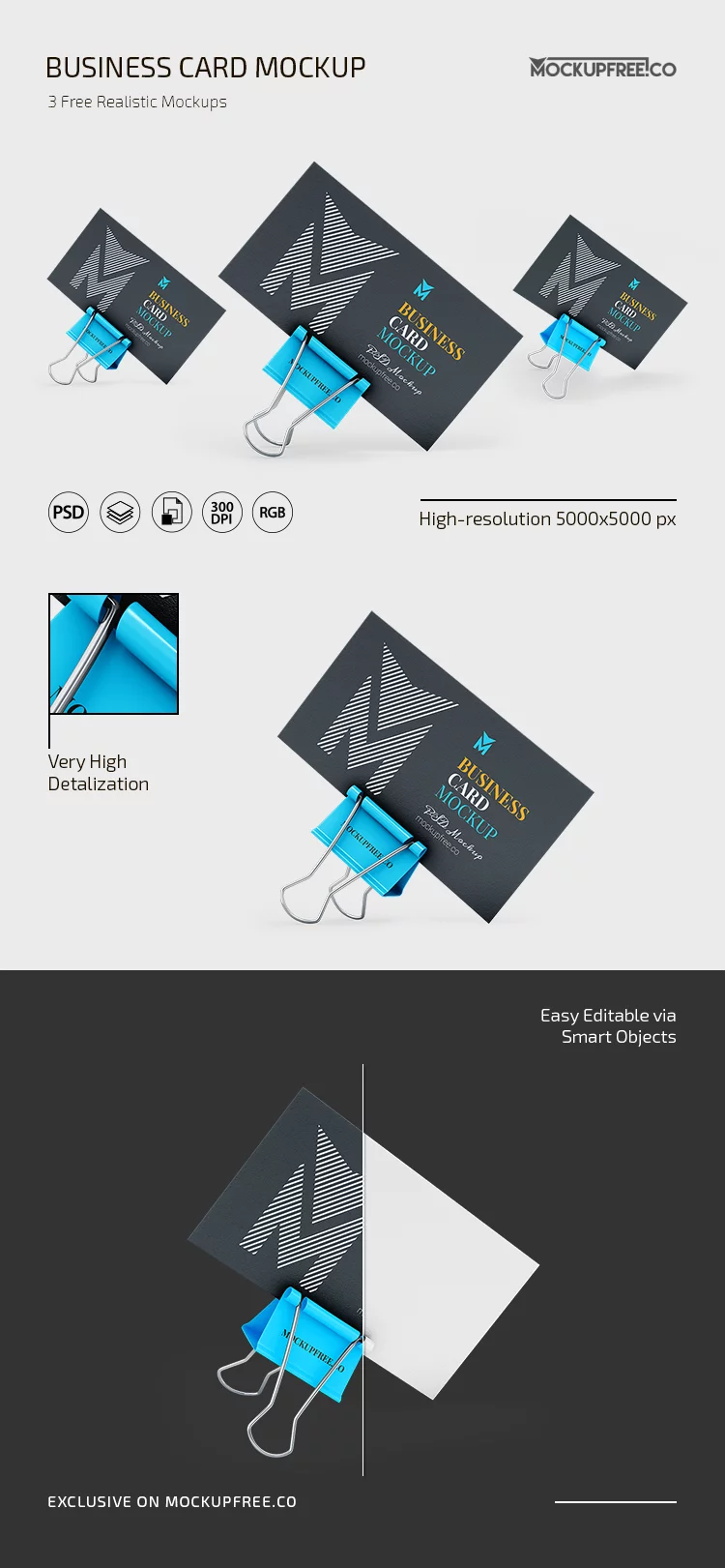 Who will benefit from using the Free Business Card PSD Mockup set?
Our materials surely are beneficial for a range of businesses and individuals. In particular, graphic designers can utilize these models to showcase their card designs in a professional and visually appealing manner. Besides, entrepreneurs can leverage these mockups to create impactful presentations for their brand identity and marketing materials. Printers and stationery suppliers can also utilize these templates to demonstrate the final look of business cards to their clients. Additionally, marketers and advertisers can make use of these mockups for promotional materials, online portfolios, or social media campaigns.
How can you adjust the Free Business Card PSD Mockup Pack?
We suggest you start by applying your corporate, lettering, or other design to the card via smart layers. It's also possible to feature a logotype, a pattern, an image, and other elements. Of course, you can write any suitable text, and delete or add lines as needed. In addition to that, it's possible to alter the palette of both the card and the clip, to make these templates fit your creative project ideally. Finally, you can feature any image in the backdrop, and fine-tune the scales and lighting.
Why should you download the Free Business Card PSD Mockup kit?
Download the Business Card Mockup Freebie pack now to succeed at visualizing your fresh designs! We offer you these PSD samples at no cost to let you stay on a budget while having access to class-A design tools. Besides, with the royalty-free license, you won't have to worry about utilizing these models for your personal needs and commerce. With their effortless editing and life-like presentation, these templates surely are valuable tools. Get them now, and enhance the visual representation of business cards across your industry.