Download the Silk Scarf PSD Mockup Bundle! In it, our skilled team assembled three exclusive, top-quality samples. The templates present a medium-sized silk scarf tied in a simple yet elegant-looking knot. The glossy, smooth silk texture adds a touch of class. Meanwhile, with multiple folds and natural lighting, the samples look like studio shots. Without a doubt, apparel designers, textile producers, and store owners will find this pack essential. A sure advantage of our set is the ease of Photoshop personalization. No matter how intricate your ideas are, you can easily bring them to life with some fast editing.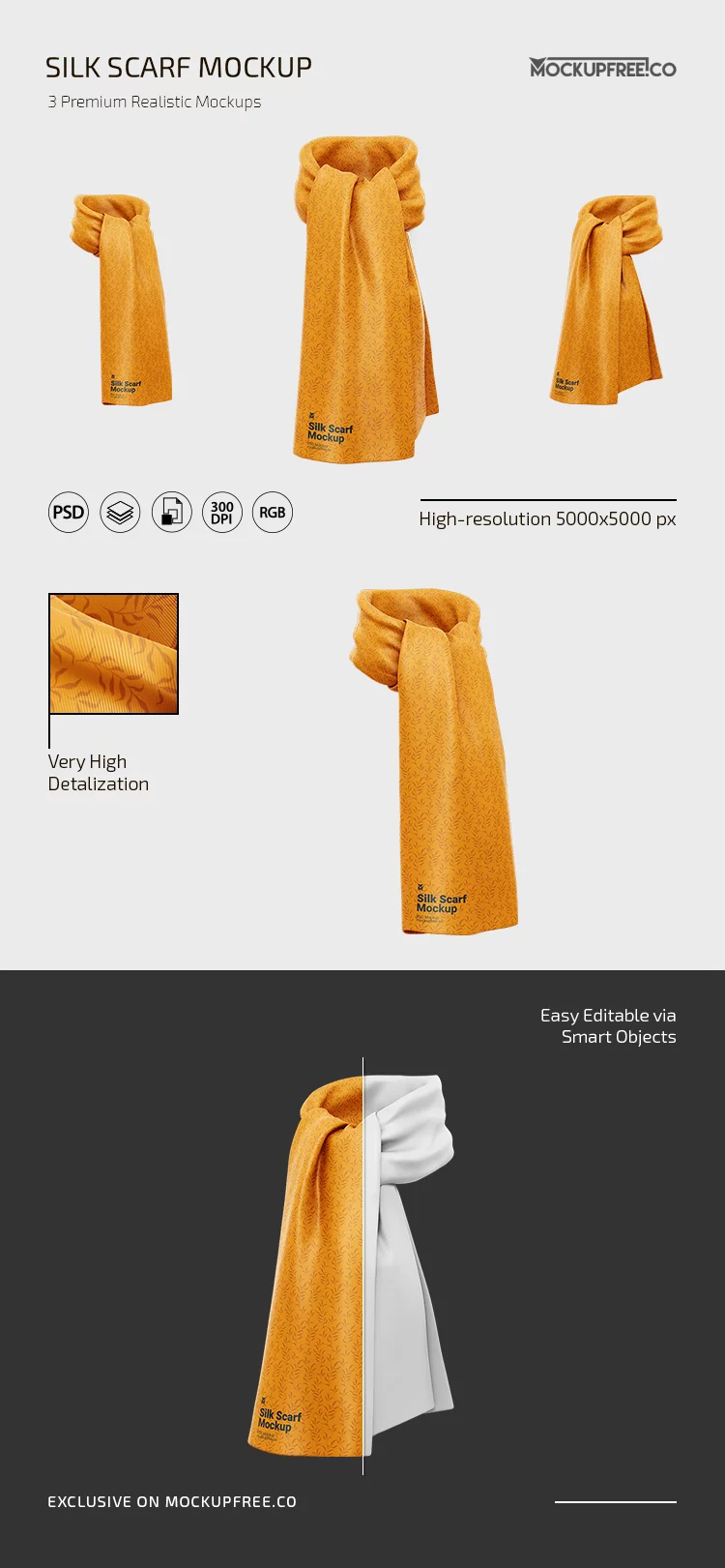 How can you adjust the Silk Scarf PSD Mockup Set?
Let us assure you that customizing these samples is a breeze both for design newbies and seasoned pros. First off, you can apply your artwork to the scarf. In particular, it's possible to showcase a stylish textile pattern, an image, or a branding logo. These elements will transfer seamlessly through the well-arranged smart layers. Secondly, it's worth adjusting the scarf's palette so that it aligns with your creations. Besides, you can alter the scales, the lighting, and even the angles in order to make these materials more versatile. Finally, don't forget to personalize the backdrop, and add text as needed. Let us assure you that the personalization process will be fast and stress-free.
Why should you download the Silk Scarf PSD Mockup Kit?
Download the Silk Scarf PSD Mockup Pack! This exclusive design tool will make your current and future design projects shine. The three samples impress with their versatility and precise detailing. With some trouble-free Photoshop editing, you'll certainly achieve excellent results. Besides, with the royalty-free license, you can utilize our pack for design visualization, presentations, web stores, and other commercial needs. Don't wait a moment, and get this fabulous collection of apparel mockups now!