Download the Half Apron Mockup PSD bundle! In it, we assembled three mockups of exceptional quality. Each model showcases a cloth half apron, with a narrow belt in the waist area, and two square pockets on the front side. Thanks to the simple yet practical cut, this item is a great canvas for any designs you'd like to present to potential buyers. Besides, precise texture detailing makes these templates look incredibly realistic. Most importantly, you can make basic edits to the samples even without the advanced knowledge of Photoshop.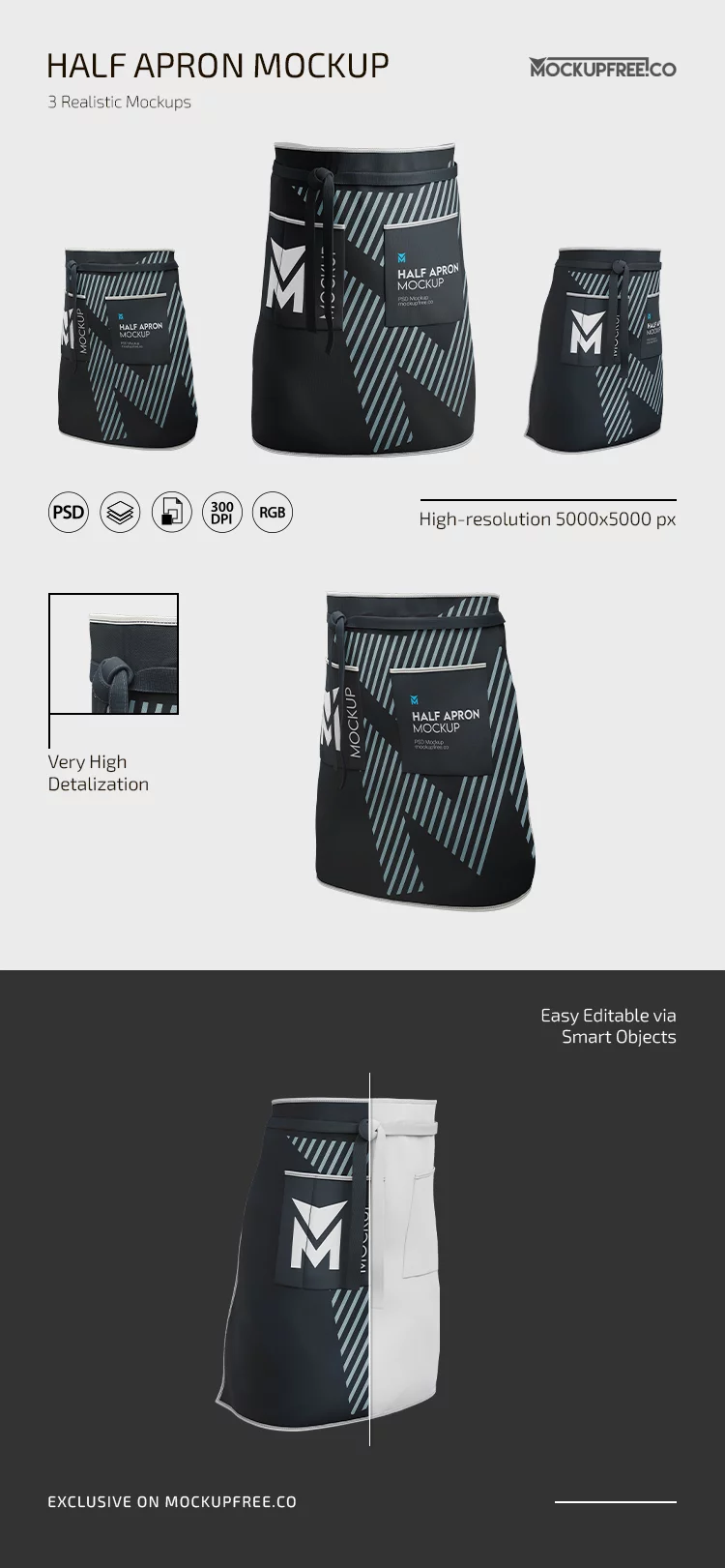 Who can benefit from downloading this product?
If you are an apparel designer, a manufacturer, or an online store owner, you certainly shouldn't miss out on our offer! Besides, café and restaurant owners could use the three samples to visualize the uniform designs that workers would wear at their places. Since the mockups feature the apron from three angles, business owners can get a complete understanding of how apparel designs will look in real life. Overall, our product can be of great value to anyone working on new textile and apparel creations.
How can you adjust these templates?
Firstly, you can apply any apparel designs to each of the three samples via Smart Objects. In particular, it's possible to feature a pattern, an image, a text, a logo, and other elements. Secondly, you can alter the color scheme of the item and its parts, including the belt, the pockets, and the hem. Besides, you can add a suitable image and text to the backdrop. These are just a few of the possible editing options.
Why should you download our set?
Go ahead, and download the Half Apron Mockup kit now! As you save the original file, you get immediate access to the three flawless models of a cloth half apron. Since we grant the free license, you can use the set without limitations for any projects. Besides, we are certain that you'll enjoy the process of altering these life-like PSD models in Photoshop.