Download the Free Pillow PSD Mockup pack now, and start your exciting design journey! This high-quality package provides three professional PSD templates that users can easily customize in Photoshop to showcase their designs. Each template presents a square pillow from a unique angle, complete with a small cloth tag sewn into one side. Two of the templates depict a single pillow, while the third template features a pair of pillows placed side by side. The 3D shapes, multiple folds, shadowing, and intricate cloth texture lend an air of realism to the mockups. Graphic designers, textile artists, and marketers alike can benefit from downloading this Free Pillow Mockup set to elevate their presentations.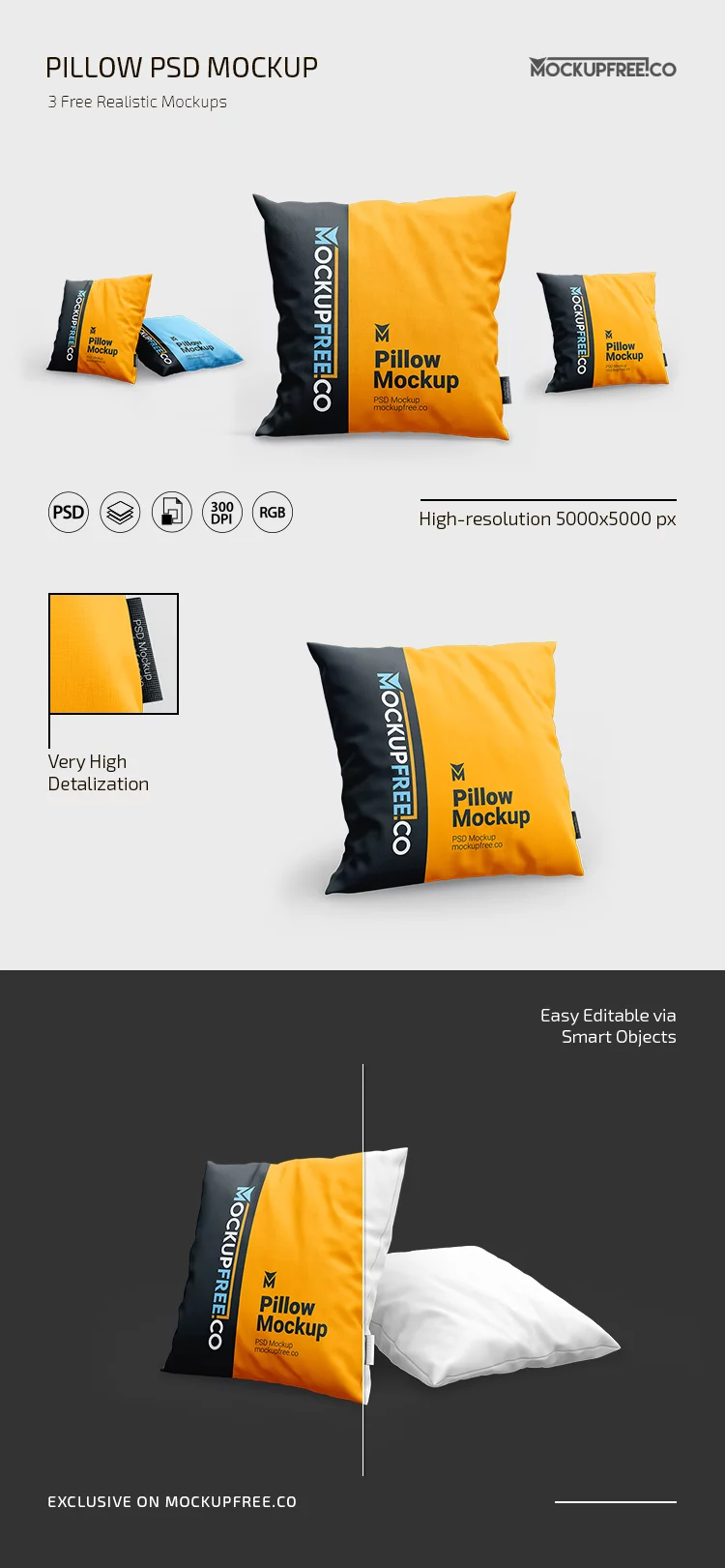 How can you edit the Free Pillow PSD Mockup set?
What's great, any user can quickly personalize the three templates in Photoshop. Firstly, they can display any textile pattern, corporate design, image, or illustration on the pillow surface. Secondly, users can apply logos and text to the cloth tag on the side. Furthermore, it's possible to modify the color of the pillows to suit the design. Finally, users can also add text or images to the backdrop, creating a more comprehensive and engaging presentation. The process of editing these PSD materials in Photoshop will surely be a breeze for both skilled designers and newbies.
Why should you download the Free Pillow PSD Mockup pack?
Don't hesitate to download the Free Pillow PSD Mockup set and enhance your design portfolio. With this package, you'll receive three free top-notch PSD templates of professional quality. Since these resources are fully editable in Photoshop, which makes them a valuable asset for any designer. Moreover, the pack includes a free license and thus ensures hassle-free usage. By utilizing editable mockups of a cloth pillow, you can create compelling presentations that showcase your creative skills and capture the attention of clients or customers.