Download the Free Label Tag Mockup bundle! Using this top-quality product can be beneficial for a range of businesses and individuals. Designers, marketers, and artisans willing to showcase their branding, labeling, or product designs in a life-like and appealing way will surely find value in this collection. Each mockup features a pair of vertical cardboard label tags with metal eyelets and twines. The unique position of the tags in each scene offers versatility. These mockups will certainly bring an extra level of realism to your presentations. They allow you to demonstrate how your designs would appear in a tangible and authentic setting. What's best, our materials are easy to alter in Photoshop even for those without advanced designer skills.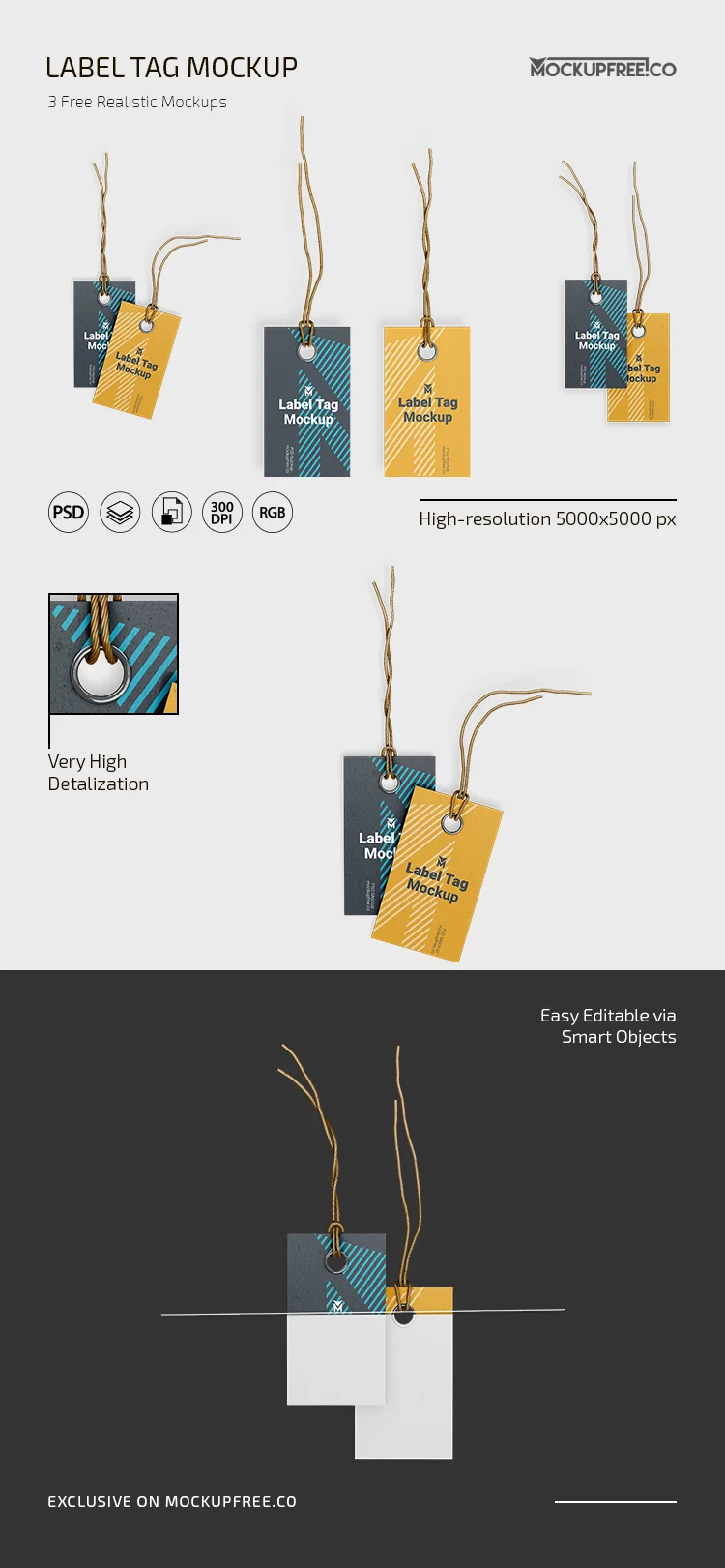 How can you customize this kit?
Customize these label tag samples effortlessly in Photoshop!
The adjustable layers will allow you to add your own branding, text, or graphics with minimal effort.
In particular, you can seamlessly replace the design on the label tags with your own artwork, ensuring a flawless presentation.
It's also possible to experiment with different textures, colors, and patterns by utilizing the blending options in Photoshop.
As a result, you'll give the tags a unique and personalized look that matches your brand identity.
Additionally, having adjusted shadow and highlight you'll add depth and dimension to make these templates visually captivating.
Finally, you can apply creative filters and effects in Photoshop to add a touch of artistic flair to your tags. As a result, these mockups will stand out and leave a lasting impression on your audience.
Why should you download this PSD set?
Download the Free Label Tag Mockup pack! Whether you are a graphic designer seeking to create impressive portfolio displays, a marketer presenting labeling concepts, or an artisan showcasing product packaging, this set of adjustable label tag PSD samples provides an excellent tool to elevate your visual representations and captivate your audience. The free access, along with the free license, and the ease of Photoshop personalization are the sure perks of this mockup bundle.