Download Free iPhone 15 Pro PSD Mockup template bundle! The three flawless, adjustable samples showcase the latest in smartphone technology. A must-have for app developers and tech enthusiasts, this kit allows you to present your creations with professionalism. Two templates feature the iPhone standing upright, providing a detailed front and back view. Meanwhile, the third model in gravity style adds a dynamic touch at a slightly diagonal angle. The meticulous detailing of the cameras, the screen, and the textures in these samples guarantee an impressive and realistic presentation. Whether crafting app interfaces, showcasing user interfaces, or presenting your latest designs, this freebie offers you a lifelike platform.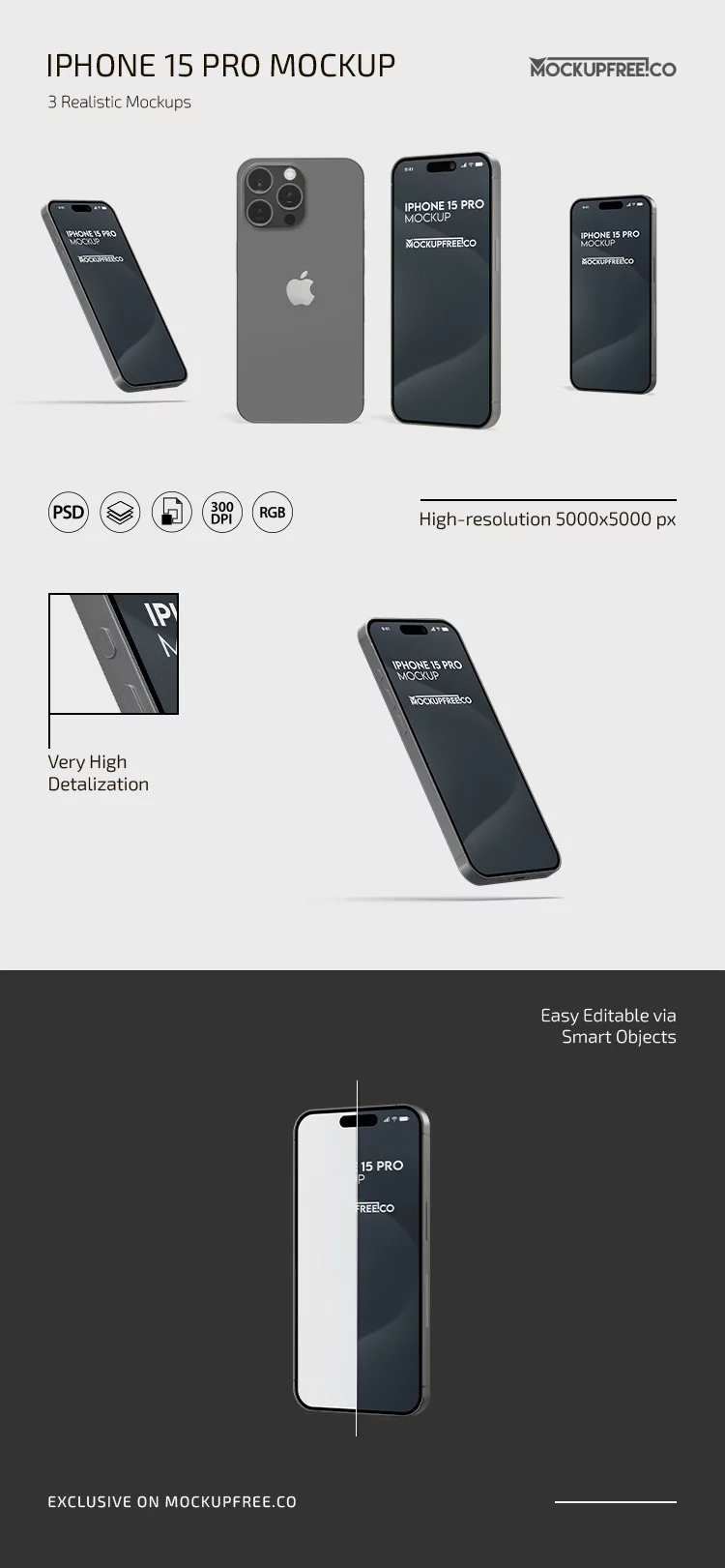 How can you personalize the Free iPhone 15 Pro Mockup PSD kit?
Personalizing this mockup bundle in Photoshop is a simple and creative process. Firstly, pick your preferred template and effortlessly switch out the default content using Smart layers. Secondly, tweak colors, textures, and shadows for the desired look. The detailed front and back views in two models, plus the dynamic gravity style in the third, offer flexibility for your project. Whether you're a design pro or just starting, Photoshop's user-friendly interface lets you craft captivating visuals. Easily integrate them into presentations, portfolios, or marketing materials for a personalized touch.
Why should you download the Free iPhone 15 Pro Mockup PSD kit?
Download Free iPhone 15 Pro Mockup PSD template pack! Ideal for graphic designers, app developers, and tech enthusiasts, this versatile kit offers three highly realistic models for presenting your latest creations. Showcase app interfaces, designs, or branding elements hassle-free in Photoshop. The detailed front and back views and dynamic gravity style provide flexibility for various projects. Since this bundle comes with a free license, it's a go-to resource for creative professionals and enthusiasts alike. Get our seamless package now, and your creative projects will surely stand out!