Download the Free Hardcover Book With Cover Mockup Bundle! If you're working on a design of a hardcover book with a special slipcase, our product is a must-have for you. This professionally-crafted set offers three versatile, faultless PSD models. While in two templates the slipcase and the book are positioned vertically next to each other, in the third sample the book lies on top of the case. The versatility of the available compositions allows for preparing a well-rounded presentation that will impress even the pickiest clients. Precise imitation of cardboard and paper texture ensures the photo-realistic quality of the mockups. Besides, with the free license and the seamless personalization in Photoshop, this product surely must appear in your design arsenal!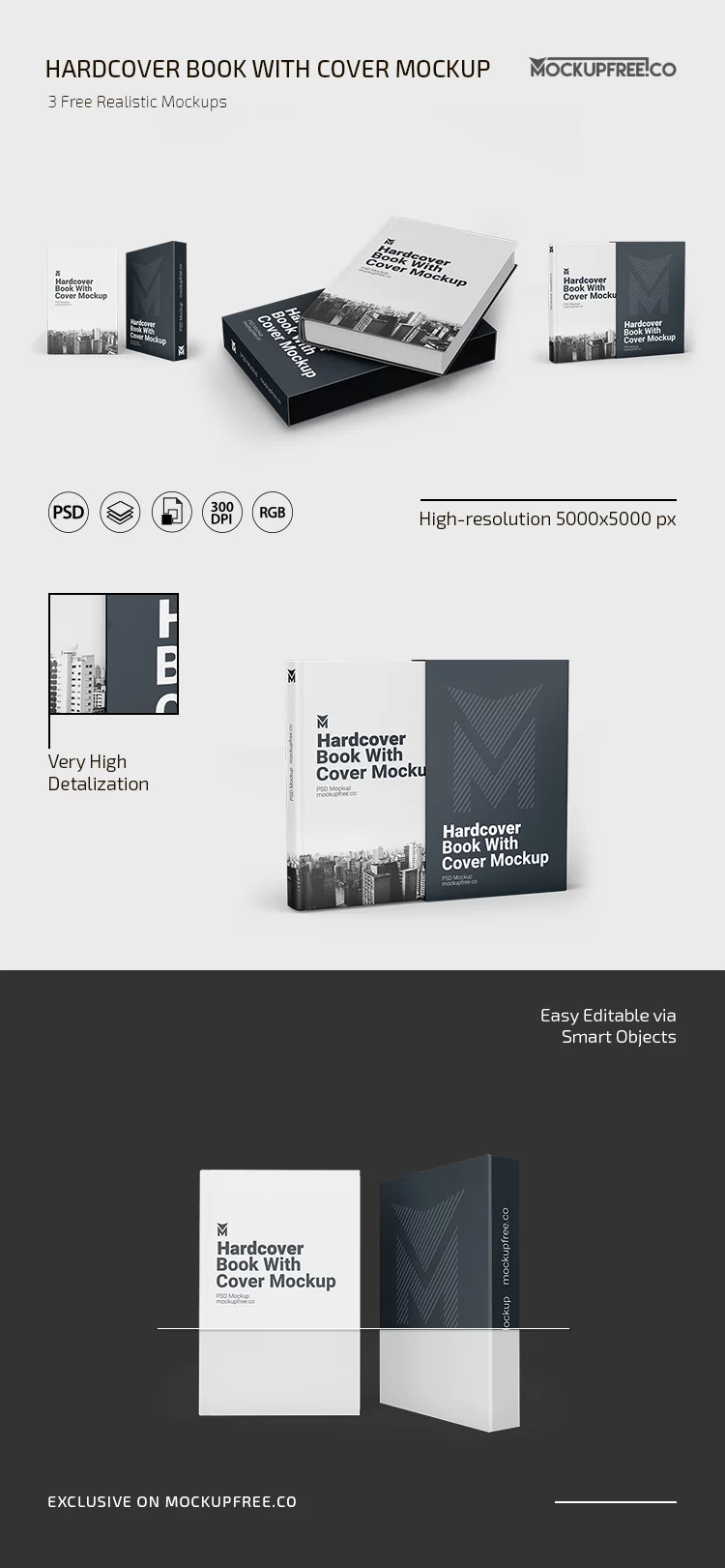 How can you edit the Free Hardcover Book With Cover Mockup Pack?
First off, you can apply your creations to both the cover of the book and the slipcase. In particular, it's possible to showcase special lettering designs, any amount of text, illustrations, images, and even a pattern. By the way, the spines of both item work as placeholders, too. Additionally, we recommend you fine-tune the shadowing and the scales, and change the color of the book and the case as needed. In conclusion, it's worth adding a backdrop that complements your presentation.
Why should you download the Free Hardcover Book With Cover Mockup Set?
Download the Free Hardcover Book With Cover Mockup Kit! If you're an artist or graphic designer, promoter, or publisher, you certainly shouldn't miss out on this fantastic offer. The three ideal, photo-realistic samples are accessible in our PSD file at no charge. Besides, with the free license, you get the freedom to pursue your personal and commercial goals with no restrictions. Finally, the ease of Photoshop personalization surely is a perk of our product. With just a little effort, you will come up with promotional samples or a presentation that looks both professional and classy. Now, take the next step, and get our superb pack of book mockups now!