Download the Free Fast Food Deli Set Mockup pack and start showcasing your designs with style! The pack contains three free expertly crafted PSD samples, which you can easily customize in Photoshop to create an impressive presentation. Each template displays the fast food or deli packaging set from a different angle, offering versatility and professionalism. The mockups feature a small transparent plastic container for salads or soups and a triangular cardboard box with a clear window for sandwiches. Besides, there's a medium-sized square cardboard box suitable for various items like wraps, fries, pasta, or pastries. The first template includes all three items, while the second focuses on the sandwich box, and the third highlights the square box. The realistic appearance of these mockups, complete with accurate textures and precise shadows, makes them perfect for businesses and designers looking to promote their packaging designs.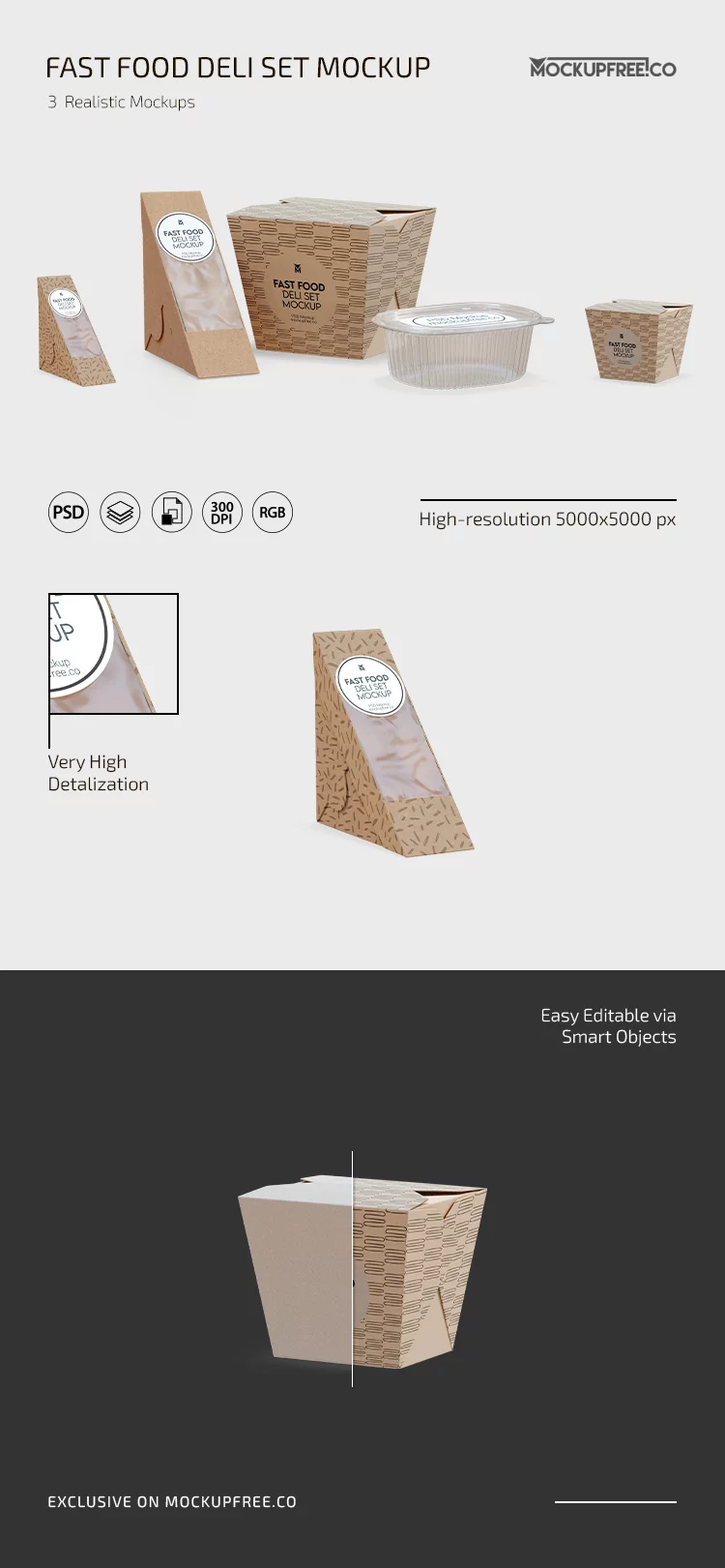 How can you personalize the Free Fast Food Deli Set Mockup pack?
Let us assure you that personalizing the three PSD templates in Photoshop is a breeze! Firstly, you can showcase your unique packaging designs, patterns, logos, and images on each item. Secondly, you can apply logos and text to the rounded stamps on the boxes. Additionally, it's possible to change the color scheme of the items or individual parts. Furthermore, it's easy to add text or images to the backdrop, ensuring a fully customized presentation.
Why should you download the Free Fast Food Deli Set Mockup pack?
Don't hesitate to download the Free Fast Food Deli Set Mockup bundle and make your designs shine! With this product, you'll receive three high-quality, detailed PSD templates at no cost. Moreover, customizing these materials in Photoshop is quick and straightforward, even for beginners. Thanks to the free license, this pack is an attractive option for businesses and designers alike. Utilizing customizable mockups of fast food and deli packaging boxes surely is a smart move. It enables you to create a professional presentation and helps you to attract more clients and elevate your brand.