Download the Free Bottle Liquid Hand Soap PSD Mockup collection! Elevate new product presentations using our set of three realistic models that feature a flat, medium-sized plastic bottle with a handy dispenser. Our samples cater to various angles and lighting conditions, ensuring a lifelike depiction. Whether you're a marketer, an entrepreneur, or a product designer, this set offers a dynamic way to showcase your packaging and branding designs. With these materials, you can present labels, product features, and branding in a professional and engaging manner. Whether you're creating marketing materials, product listings, or client pitches, the three samples will make your work shine. With the adjustable features and detailed textures, your projects will surely impress the audience.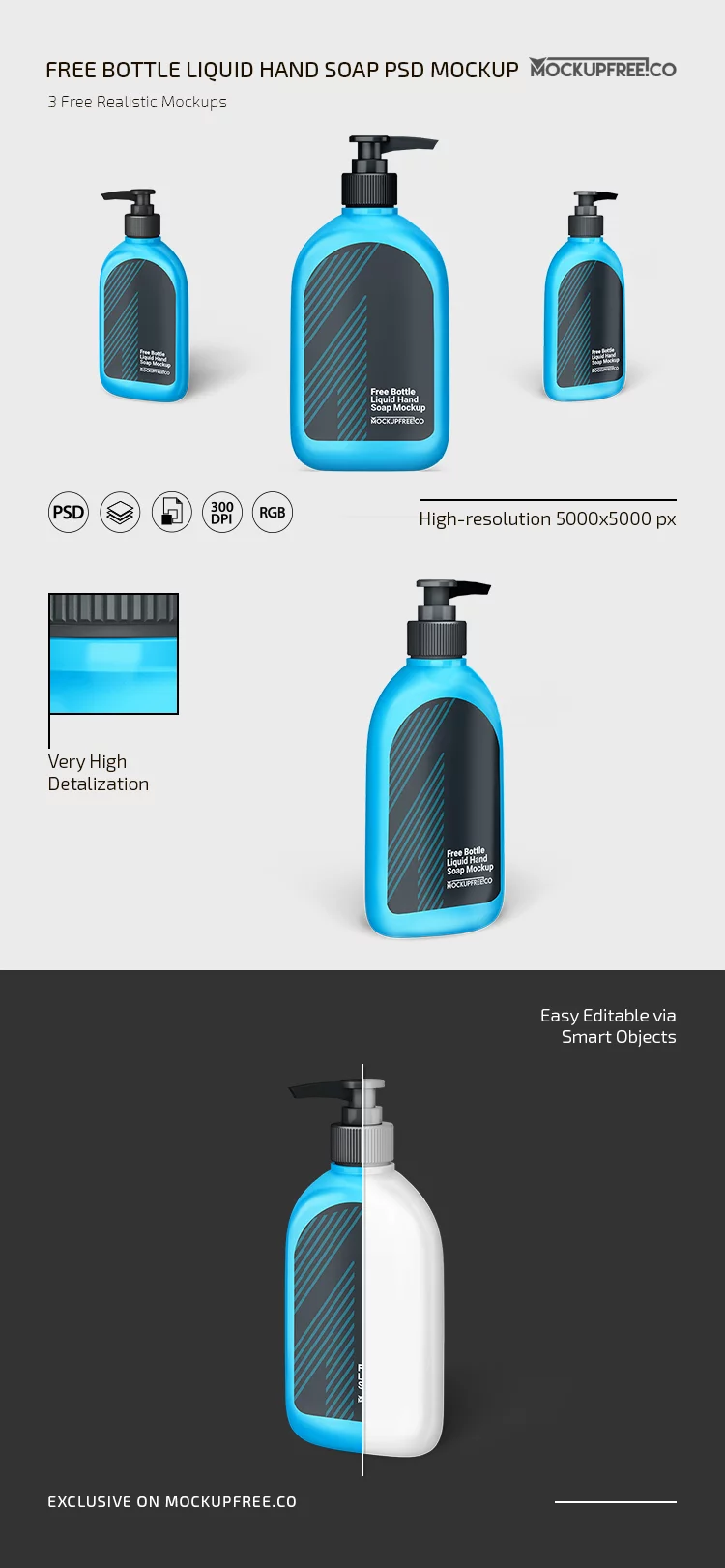 How can you personalize the Free Bottle Liquid Hand Soap PSD Mockup Kit?
Modifying these samples in Photoshop certainly is a straightforward process suitable for users of any level. Firstly, detect the labeled layers for each element, including the bottle and dispenser. Proceed by replacing the label with your own creations via smart layers. Secondly, alter the palette, shadows, and highlights to make them ideally match your brand or project's aesthetics. The highly detailed plastic texture and lighting effects ensure a realistic canvas for scoring product presentations. With organized layers and easy-to-use tools, personalizing these mockups indeed is a stress-free experience. Whether you're a pro or new to design, these templates simplify the process of showcasing your plastic bottle designs.
Why should you download the Free Bottle Liquid Hand Soap PSD Mockup Pack?
Download the Free Bottle Liquid Hand Soap PSD Mockup set now. This set includes three incredibly realistic and versatile mockup templates that can be effortlessly customized using Photoshop. Whether you're a seasoned designer looking to showcase your product or a budding entrepreneur eager to create impactful presentations, this collection is a valuable resource. The best part? We offer a free license which allows for using these materials for any goals. Say goodbye to generic designs and elevate your product presentations with these lifelike packaging mockups today.