Download the Free Books PSD Mockup pack now! Inside, you'll find three impeccable PSD samples, each featuring three medium-sized vertical books with a focus on their covers. Explore various cover variants side by side to evaluate their strengths and weaknesses. With a range of available compositions, you can present your creations from multiple angles for a complete and impressive showcase. Whether you're an illustrator, book cover designer, promoter, or publisher, this set is a valuable addition to your design arsenal. What's awesome, you can instantly make essential adjustments in Photoshop. The process won't require advanced editing skills while saving you time and effort.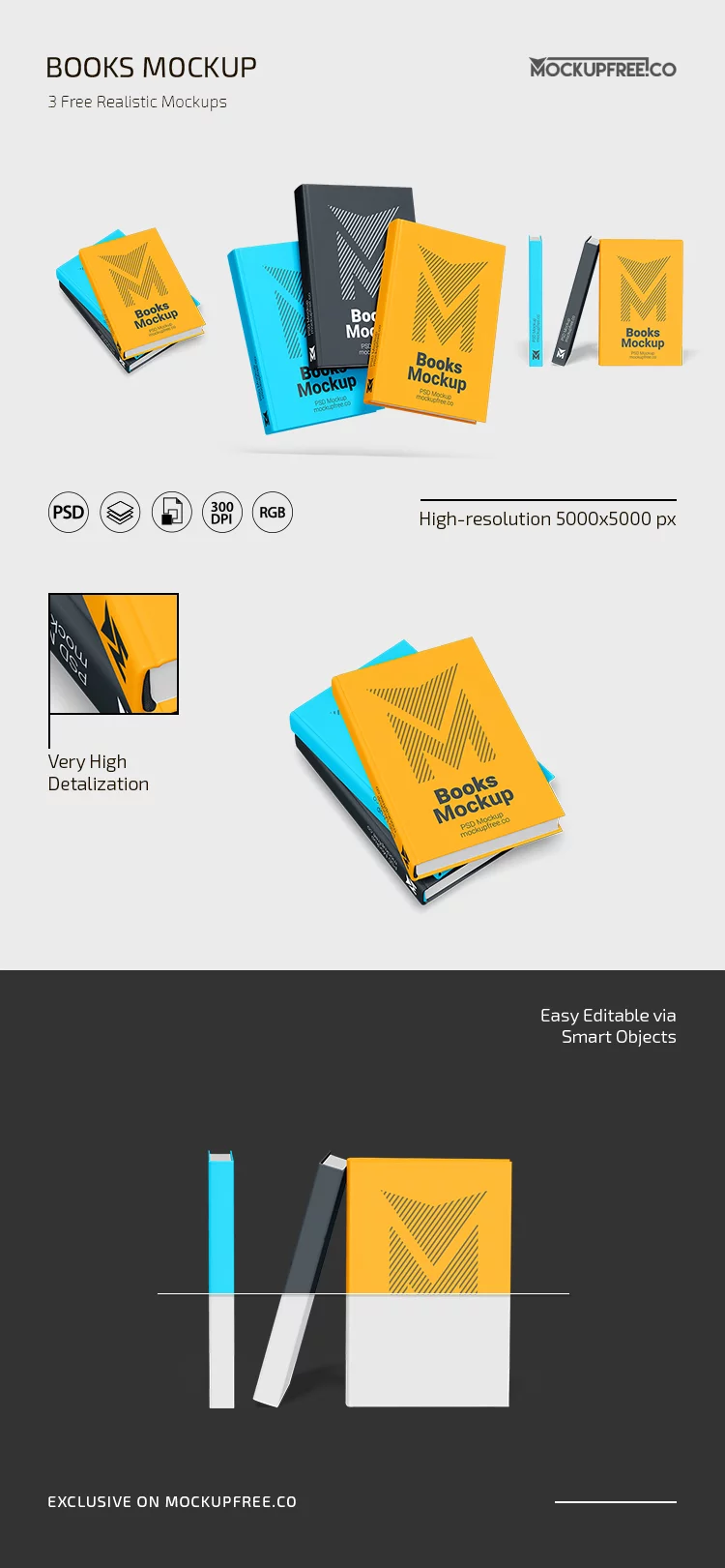 How can you adjust the Free Books PSD Mockup Set?
First off, you should apply the cover designs to the mockups. Whether it's an image or an illustration, it will adjust seamlessly through the smart layers. Besides, you can add an original lettering design, as well as any other text. By the way, not only the books' front covers, but their spines are adjustable, too. In particular, the spines are ideal for showcasing a publishing house logo and providing a title, an author's name, etc. Additionally, you can change the palette of both the covers and the pages. Finally, we suggest you add any backdrop image that matches your presentation.
Why should you download the Free Books PSD Mockup Pack?
Download the Free Books PSD Mockup Kit now, and take your latest cover design presentation to a higher level! With the three versatile samples, you'll certainly showcase your creation in a professional and attention-grabbing manner. Thanks to the accurate imitation of pages and cover texture, your promo materials will look impressively realistic. Not only does our mockup collection come at no cost, but also with a royalty-free license. Besides, we're certain that you'll enjoy the trouble-free Photoshop personalization. Unlock the possibilities, and get our fantastic book mockup kit now!