Download the Free Basketball Ball PSD Mockup Pack, and score at visualizing your product designs! These three highly realistic templates showcase the ball from various angles, focusing on its central details. Whether you're a sports marketer, a designer crafting basketball-themed graphics, or an athlete looking to personalize your gear, this set is a sure winner. Feel free to customize the ball's appearance to match your branding or artistic vision. Our kit is perfect for creating eye-catching marketing materials, and merchandise, or showcasing your passion for the game. Without a doubt, these mockups are a must-have addition to your creative toolkit!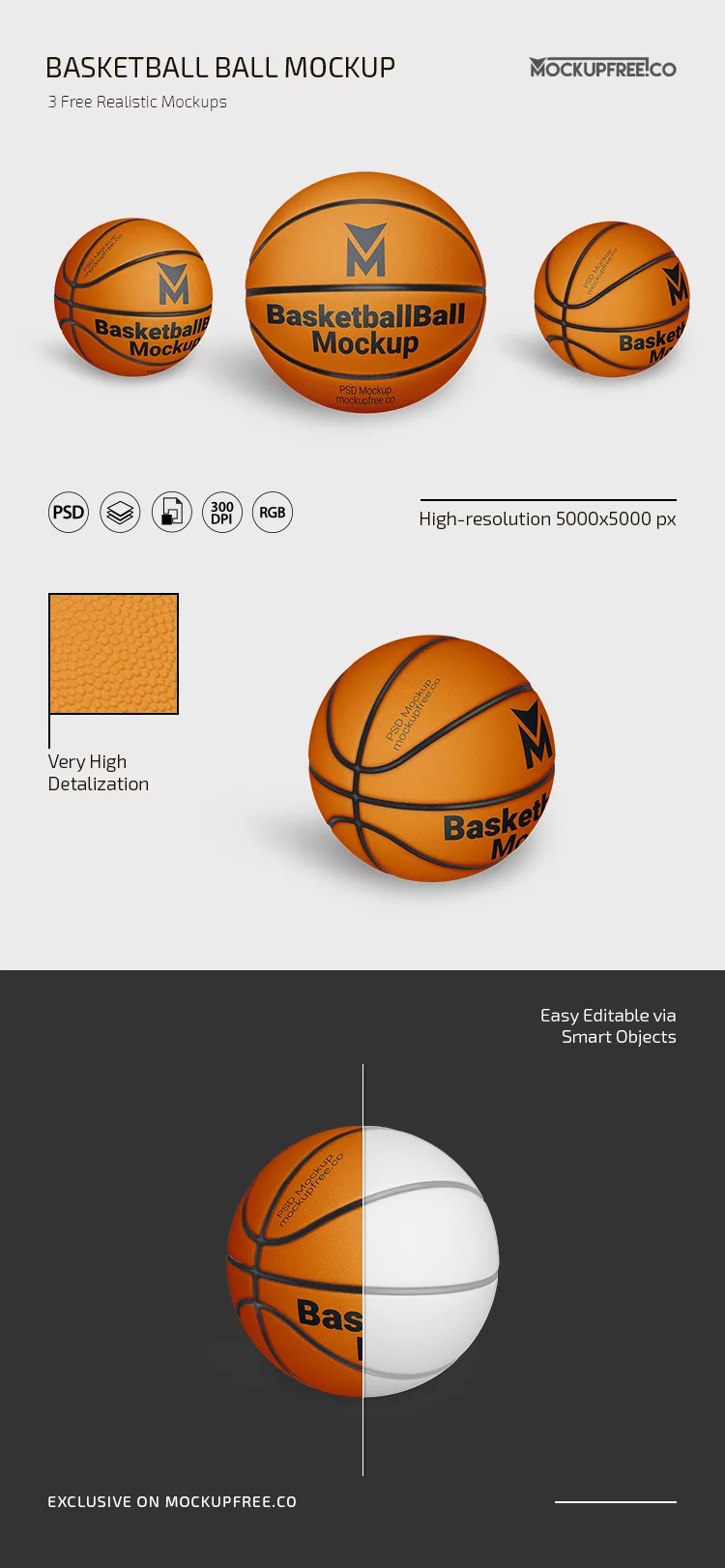 How can you adjust the Free Basketball Ball PSD Mockup Pack?
Get our basketball mockup kit now, and make sure that adjusting the three samples in Photoshop is a breeze. Firstly, find layers that let you adjust the ball's appearance. In particular, you can change its color, add patterns, or even your logo. Besides, we recommend you tweak the lighting to match your design's mood perfectly. Also, you can also experiment with the background or add more graphic elements and text to make these models uniquely yours. Photoshop's user-friendly interface makes it easy for both beginners and pros to personalize these mockups. In no time, you'll have an array of personalized mockups ready for your projects.
Why should you download the Free Basketball Ball PSD Mockup Set?
Download our Free Basketball Ball PSD Mockup bundle today to supercharge your design and business endeavors! These three models deliver a level of realism that will astonish both you and your clients. Even if you're not a Photoshop pro, personalizing these materials certainly is a breeze. Besides, with the versatility of these models, you'll achieve impressive results for a variety of projects. Finally, the free license means you can use these samples without limitations. Best of all, they won't break your project budget. Get ready to make slam-dunk designs with this lifelike basketball mockup package!