Download the Free Attache Case PSD Mockup Kit to immediately elevate your design presentations! Crafted with realism, these three templates offer a fresh perspective on showcasing your projects. The minimalist, metallic details—clasps, a handle, and planks—add sophistication to your visuals. Our pack is ideal for designers, artists, and branding professionals seeking a powerful and sleek presentation tool. With these materials, you'll display your work from various angles, capturing attention to every detail. Don't hesitate to utilize our kit for portfolio displays, branding projects, and client presentations.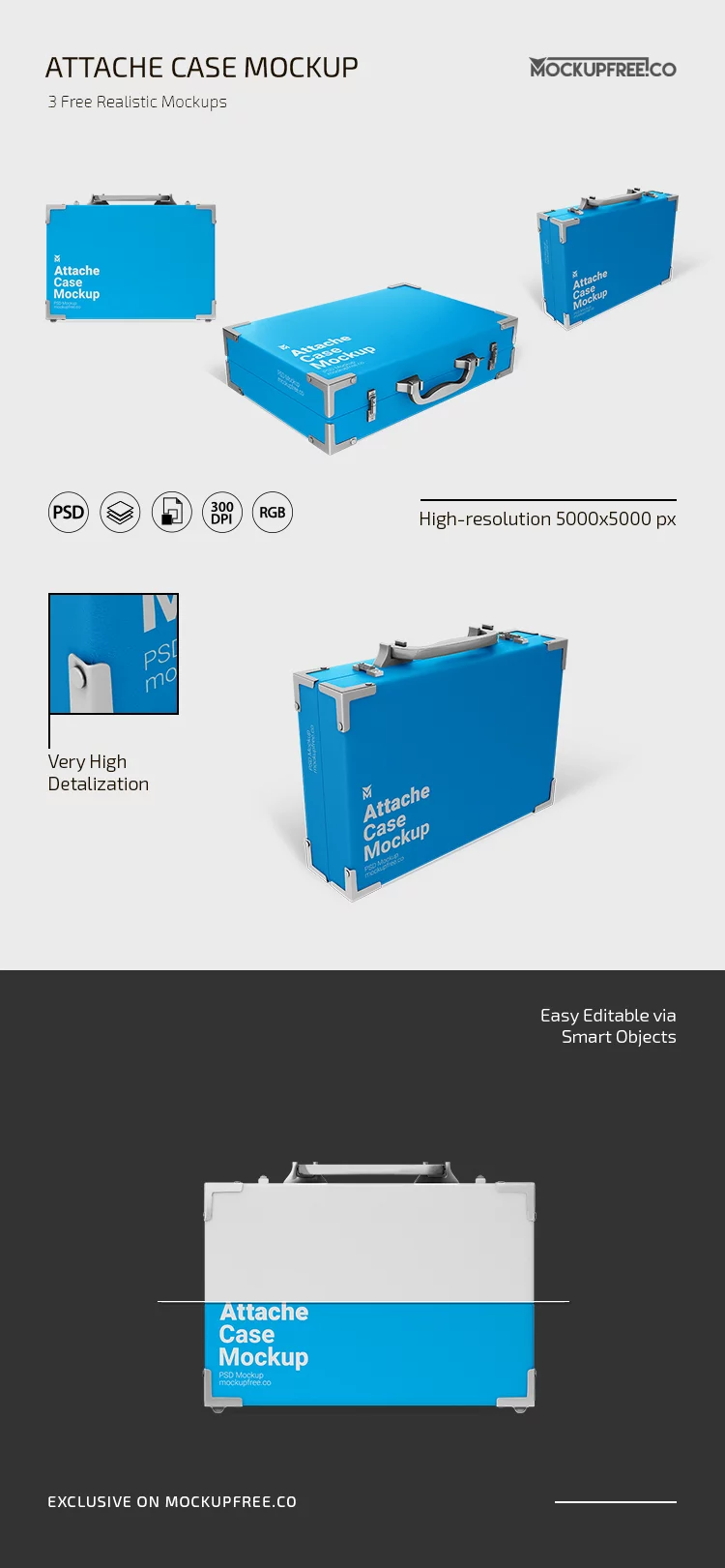 How can you customize the Free Attache Case PSD Mockup bundle?
Personalizing our kit in Photoshop surely is a breeze thanks to the well-organized layers. Firstly, apply your artwork to the placeholders. In particular, you can feature any text, images, corporate logotype, or cool pattern that adds to the item's look. Alternatively, you can alter nothing but the palette of the case, including its handles, the clasps, and other metallic elements. Additionally, we recommend you adjust the scales, the shadowing, and the angle at which you present the item. This way, you'll make your design presentation look custom-crafted. Finally, there's an option of tweaking the backdrop to your needs.
Why should you download the Free Attache Case PSD Mockup pack?
Download the Free Attache Case PSD Mockup Bundle! With it, you get immediate access to three flawless, class-A samples at no charge. Besides, the free license ensures limitless usage of these materials for both commerce and personal projects. We're certain that you'll enjoy the stress-free process of making key edits in Photoshop. The photo-realistic quality and the unique look of the case will aid in preparing a stylish and attention-grabbing presentation. Whether you're a producer, a graphic designer, or a promoter looking to impress your clients, this superb mockup package surely is a must-have!