Download the Free Street Poster Mockup pack today and enhance your design presentations with these stunning templates! Our set includes three free pro-level PSD templates, all of which you can easily customize in Photoshop to suit your needs. These samples feature a frameless, medium-sized, vertically-oriented poster held behind a glass pane. Four metallic clamps secure the poster to the surface. The poster rests on a plain, textured background reminiscent of plaster. The meticulous attention to detail in the glass, paper, and other materials makes these templates incredibly realistic. Since each sample showcases the poster from a unique angle, you can prepare an eye-catching presentation of your designs. Our poster bundle is a great fit for designers, marketers, and business owners preparing a professional presentation of their creations.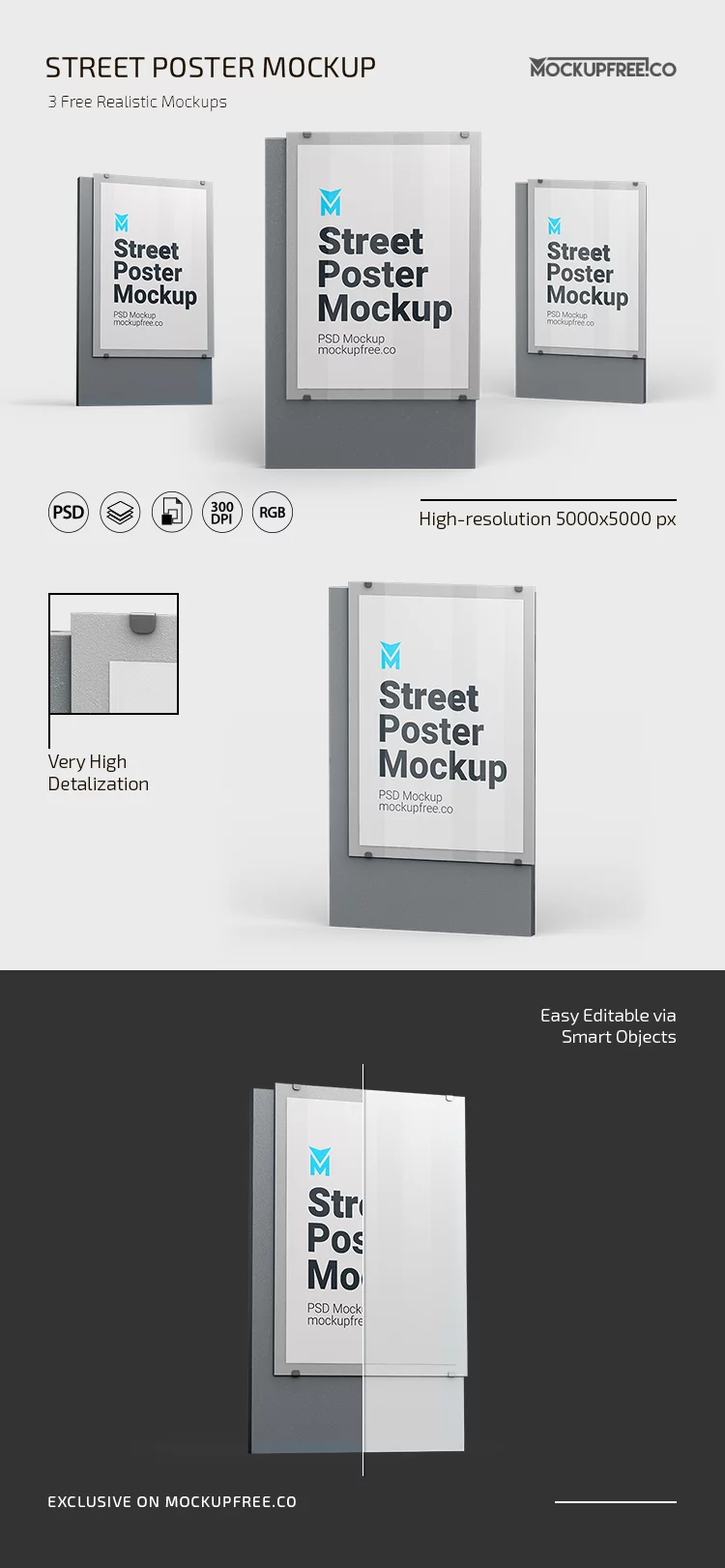 How can you edit the Free Street Poster Mockup pack?
What's great, users will easily modify the three templates in Photoshop! In particular, they can display any poster, corporate design, or image they choose. Secondly, users can apply a logotype and write any text to create a more customized look. Additionally, it's possible to change the color scheme of the poster and its components, including the metal clamps and setting. Finally, one can add text and set an image in the backdrop for more personalization. Whether you are a skilled pro or a design newbie, you'll certainly achieve an impressive result with a bit of effort and time!
Why should you download the Free Street Poster Mockup pack?
Don't hesitate to download the Free Street Poster Mockup bundle now, and enjoy the exceptional quality it offers. With three pro-level PSD samples available for free, this set is a must-have design tool. Moreover, the free license ensures that anyone can personalize these mockups without restrictions. With the editable mockups of a no-frame street poster, designers and marketers can effectively showcase their work and impress their target audience.