Download the Free Hanging PSD Poster Mockup Design pack, and bring your creative ideas to life! If you're a photographer, an artist, or a graphic designer, you certainly shouldn't miss a chance of getting this fantastic set. Besides, decorators, interior designers, and printing business owners can also make good use of this pro-level design tool. The set assembles three free mockups of a vertical wooden poster frame presented in a casual, neutral environment. Shiny glass and two chains attached to the upper side of the frame make it look catchy and modern. The item is ideal for showcasing photographs, illustrations, and other artworks in a variety of styles. The ease of Photoshop personalization is a sure perk of our product.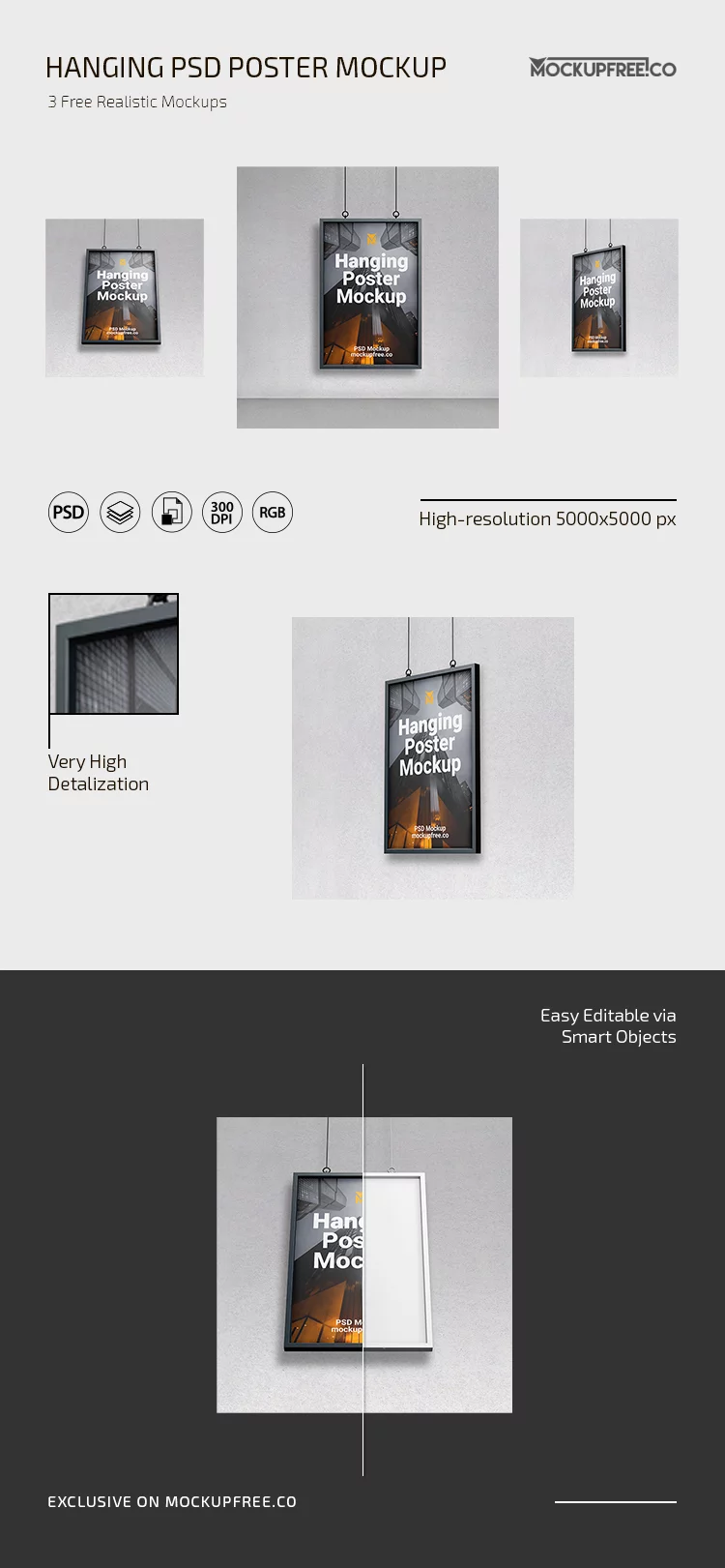 How can you customize this bundle?
Firstly, to visualize your poster designs, photos, or other creative projects, you should apply them to the placeholder via adjustable layers in Photoshop. You can also adjust the lighting and scales of the frame as needed. Besides, it's possible to add any fitting text and feature logos or other vector elements. Additionally, you can alter the palette of the frame, the holding chains, as well as the color of the wall and floor. Thanks to the precise detailing of textures and shadows, your presentation will surely look impressive.
Why should you download our bundle?
Download the Free Hanging PSD Poster Mockup Design pack! This valuable tool will aid you in preparing a classy and professional-looking artwork presentation. With the three versatile samples in this set, it's easy to showcase all pros of your creation. Thanks to the well-arranged layers and exceptional quality of our materials, the adjusting process will be smooth and fast. Besides, the free license grants you the freedom of using this PSD bundle for whichever needs. Save the original PSD pack – and get started right away!