Download the Free Wall Calendar PSD Mockup Kit! Utilize the three versatile templates that showcase a sleek vertical wall calendar on a shiny metal spiral. Whether you're a graphic designer, a marketing professional, or a business owner, this mockup pack is your secret weapon. Each month gets its page. Besides, the clever presentation, with one page lifted to reveal the next, adds an element of dynamic realism. You can effortlessly personalize these mockups to fit your branding or promotional needs. These materials are perfect for visualizing and presenting your calendar designs, advertising campaigns, or corporate branding professionally and engagingly.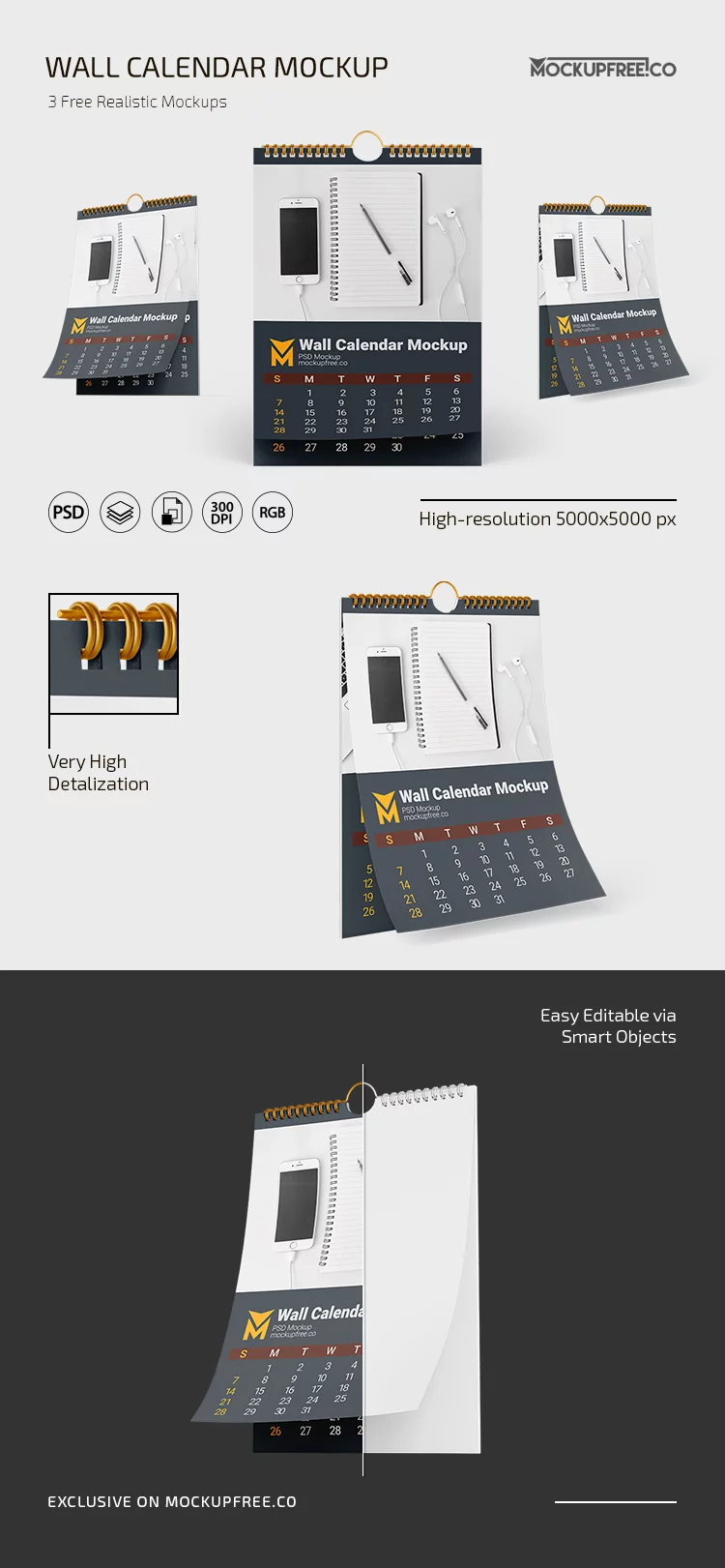 How can you customize the Free Wall Calendar PSD Mockup Set?
Personalizing this mockup bundle in Photoshop is effortless and straightforward. Firstly, you should open the files for the desired angles. Secondly, you can easily replace the default calendar pages with your designs or photos. Don't forget to use the text tool to update the month and date details to match your calendar. Additionally, we suggest that you adjust colors, fonts, and styles to align with your branding or creative vision. Thanks to the neatly organized layers, you can tweak each element with precision. Whether you're a designer creating portfolio presentations or a business showcasing monthly promotions, this mockup set provides the flexibility to personalize and impress.
Why should you download the Free Wall Calendar PSD Mockup Kit?
Take action now, and download our Free Wall Calendar PSD Mockup bundle to pursue your design and commercial goals! The three models will awe both you and the clients with their polished, highly realistic look. Personalizing these materials is a trouble-free process even for those with no advanced Photoshop skills. The versatility of the models surely will aid you in achieving an impressive result. Meanwhile, the free license grants the freedom of limitless use of the samples for any purpose. Finally, the free availability allows you to stick to a project budget. Get ready to impress your customers with these stunning branding mockups.