Download the free pack Free T-Shirt PSD Mockup today and enjoy the versatility it provides! This unique set contains three top-notch PSD templates that you can effortlessly adjust in Photoshop. As a result, you'll create a comprehensive presentation of the newest designs in no time. The mockups highlight a classic men's short-sleeve t-shirt with a round collar, rendered in 3D and featuring a highly detailed textile texture for a lifelike appearance. This t-shirt freebie set is a must-have for graphic designers, clothing brands, and anyone looking to display their textile designs in a realistic and professional manner.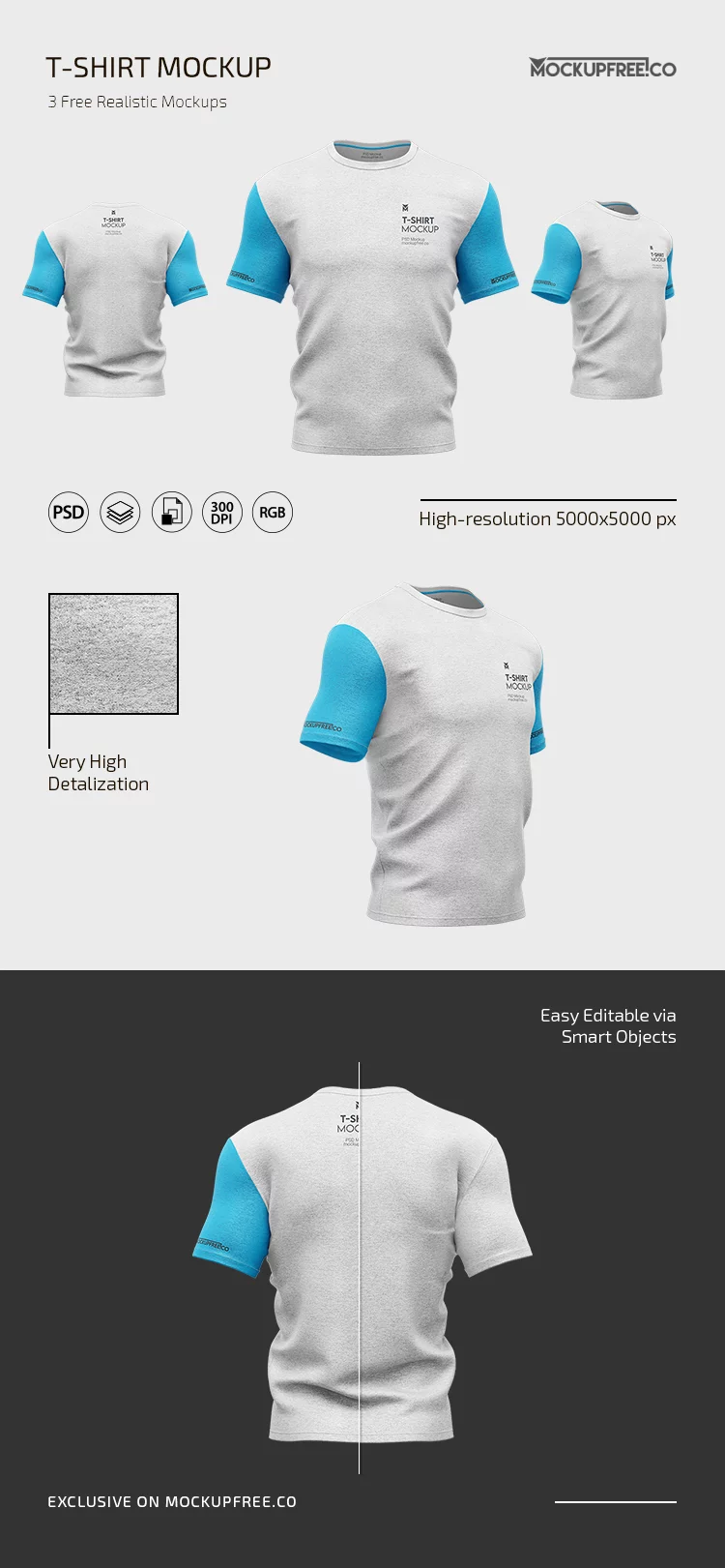 How can users alter the Free T-Shirt PSD Mockup Freebie set?
What's awesome, you can swiftly adjust the three samples in Photoshop to suit your specific needs. Firstly, you can display various designs, such as clothing, textiles, or corporate branding. Besides, it's easy to present any patterns or images on this t-shirt. Additionally, users can place a text or logo on any part of this item, including the back, sleeves, and inside. Besides, it's possible to modify the colors of the t-shirt, and its components, like the hem, stitches, and inner section. Lastly, one can add a fitting image and text to the canvases of the templates, enhancing the overall presentation.
Why is it worth downloading our Free T-Shirt PSD Mockup Freebie pack?
Download our Free T-Shirt PSD Free Mockup Freebie set now to experience the convenience of having high-quality templates at no charge. You can personalize these PSD files with ease in Photoshop no matter what your skill level is. Moreover, our freebie set provides a complimentary license, to be even more accessible. Utilizing these adjustable, life-like PSD samples of a men's basic t-shirt will significantly enhance your presentations while making your creations stand out and impress your potential customers. Don't miss out on the incredible opportunity to elevate your clothing designs with our pack!