Make sure to download the Free Street Wall Poster PSD Mockup kit! As a photographer, an artist, or a graphic designer, you certainly shouldn't miss out on this exclusive product. In it, you'll discover three top-quality models featuring a medium-sized vertical poster in a simple, sleek frame. The realistic, rough brick wall indeed adds up to the mockups' composition. Overall, the frame looks appealing and modern. Its minimalist design of the frame makes it compatible with any artwork you'd like to visualize or present to the customers. Since there are three versatile templates available in the pack, you will come up with an accurate and thorough presentation that'll help you succeed. The unspeakable advantage of our materials is the trouble-free personalization even for those new to Photoshop. Simply get the PSD file, and experience its numerous advantages now!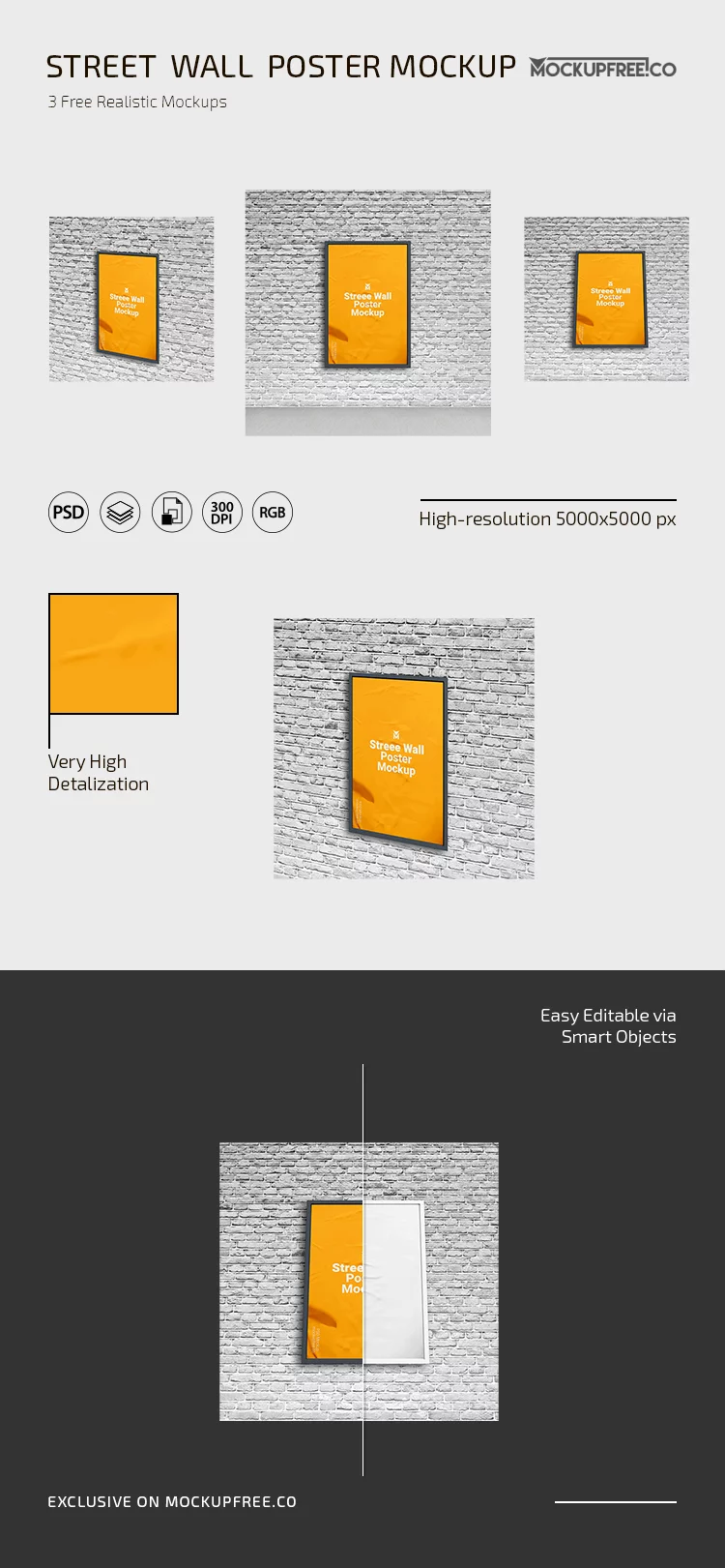 How can you customize the Free Street Wall Poster PSD Mockup Pack?
It's obvious that the main purpose of our models is to aid you at bring new poster designs to life. Therefore, start off by applying your photos, images, or illustrations to the frames. Whichever your artwork is, it'll bland fully through the well-structured smart layers. Of course, you have the option of featuring any text, lettering designs, corporate logos, and other graphics. Now, as for the templates' palette, you won't have any trouble altering the color of the frame, its inner part, and the bricks on the wall behind it. Finally, in order to achieve a fully life-like look, we recommend you experiment with lighting, scales, and angles. Without a doubt, you'll enjoy both the adjusting process, as well as the impressive results!
Why should you download the Free Street Wall Poster PSD Mockup Kit?
Download the Free Street Wall Poster PSD Mockup package! With the free access and the impeccable quality of samples, this is a must-have addition to your design arsenal. Besides, with the free license, you get the ability to utilize our materials for both your personal and commercial needs. Since the three models look universal and professional, you can use them to present a wide array of artworks and commercial designs. Finally, the fast and enjoyable Photoshop editing is yet another argument in favor of getting our set. Now, seize the opportunity, and get our superb poster models!