Download the Free Square Box Packaging Mockup pack today and elevate your design presentation game. This pack contains three free distinct PSD templates that users can easily edit in Photoshop to suit their needs. Each template showcases the square medium-sized cardboard packaging box with a separate lid from various angles. As a result, one can easily prepare a comprehensive, professional presentation of any design. Thanks to the realistic appearance and detailed textures and shadows, these templates are perfect for showcasing your creations. Our bundle surely is a valuable asset for graphic designers, marketing teams, and business owners showcasing their packaging designs.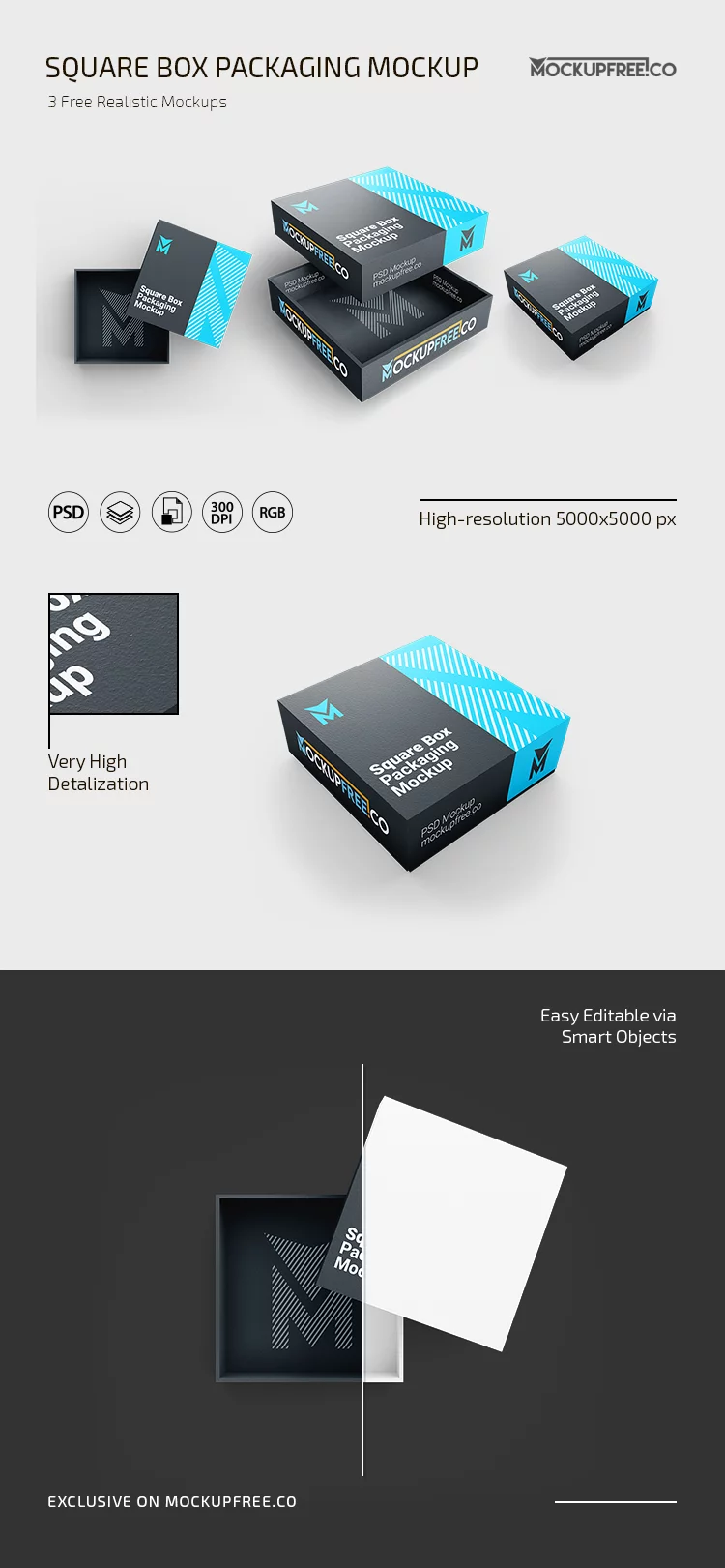 How can you adjust the Free Square Box Packaging Mockup set?
We promise that customizing these templates in Photoshop is a fast and enjoyable process. Firstly, you can feature any packaging or corporate design, pattern, or image on the box. Secondly, you can apply any text to the box's side, bottom, and every other panel, both inside and outside. Besides, you have the option to alter the color palette of the box to match your brand's identity. Additionally, you can add text and images to the backdrop, making the mockup completely tailored to your needs. With a little time and effort, the result will exceed your expectations.
Why should you download our Free Square Box Packaging Mockup pack?
Don't miss out on this opportunity to download the Free Square Box Packaging Mockup bundle and enhance your design presentations. This pack offers three high-quality PSD samples at no cost. Besides, one can personalize these materials in Photoshop with minimal effort. Since the set comes with a free license, you can use it for various projects without any restrictions. By using these customizable two-piece packaging box templates, you can save time, showcase your designs in a realistic manner, and ultimately impress your clients with a polished and professional presentation.