Download our Honey Jar PSD Mockup Freebie pack! Enjoy three lifelike models that showcase a medium-sized glass honey jar. Waxed paper and a thread on the jar add a charming natural touch to this bundle. Our samples exude authenticity as they instantly capture customers' interest. The bundle guarantees a comprehensive and polished design presentation, showcasing the jar from various perspectives. With simple adjustments in Photoshop, you'll bring your creations to life effortlessly. Moreover, the royalty-free license ensures unlimited usage, freeing you from any restrictions when sharing these samples.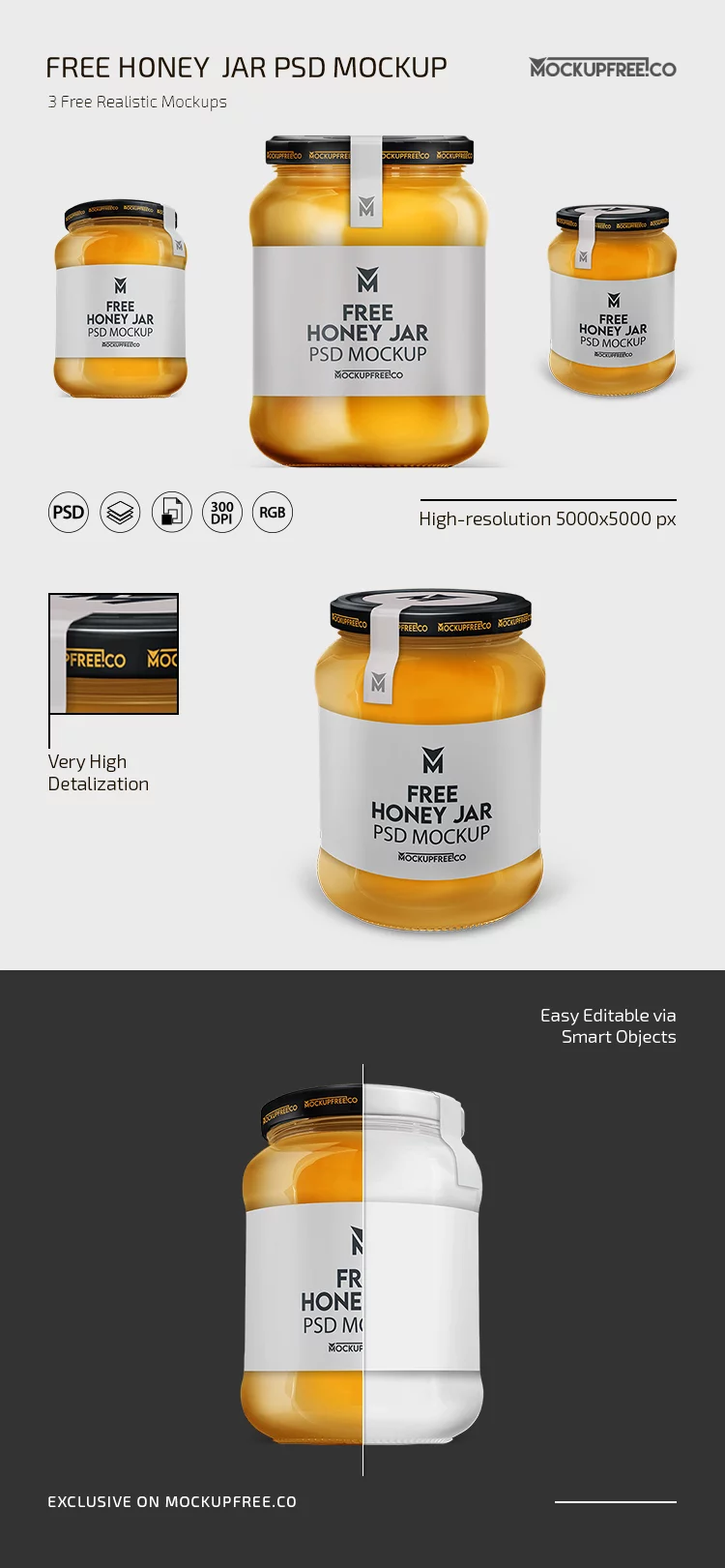 Who can benefit from using these materials?
This bundle can surely benefit graphic designers, marketers, and individuals involved in food packaging design or product branding. The three templates are ideal for creating visually appealing mockups for honey jar labels, product presentations, online stores, social media promotions, or advertising campaigns. They provide a convenient and professional way to showcase honey-related designs and captivate the target audience with their authentic and eye-catching visuals.
How can you adjust the Honey Jar PSD Mockup kit?
First off, you should apply your creations to a square paper label on the front part of the jar. In particular, you can feature a branding logo, a sweet pattern, and an image or an illustration. Besides, you can fit in a product's name and a few more text lines. Additionally, you can personalize the color of the glass, the label, the waxed paper, the thread, and the honey inside the jar. Thanks to the meticulous detailing of textures, our models can compete with studio shots. Finally, it's possible to alter the backdrop by adding a suitable image, and text.
Why should you download the Honey Jar PSD Mockup Freebie bundle?
Download our Honey Jar PSD Mockup Freebie kit! The impeccable quality of the three samples in this pack will surely help you implement your fresh ideas. Besides, the royalty-free license grants you the freedom of using the three samples for any purpose. We believe that with the smartly arranged layers, you'll enjoy adjusting these materials in Photoshop. Save the original bundle now, and get your hands on some of the sweetest templates!