Download the Free Boxing Gloves Mockup pack now and enjoy three high-quality boxing gloves mockups by our best creators! In particular, two PSD samples provide a front and back view of a single classic boxing glove. Meanwhile, the third template offers a close-up of a pair of such gloves. Not only does our bundle come at no fee but also offers a free license for your commercial and personal projects. Whether you're a designer, marketer, or business owner, this mockup pack is a must-have. It allows you to showcase your designs or branding concepts in a professional and engaging way. Once adjusted, these pro-level materials will surely elevate your visual presentations.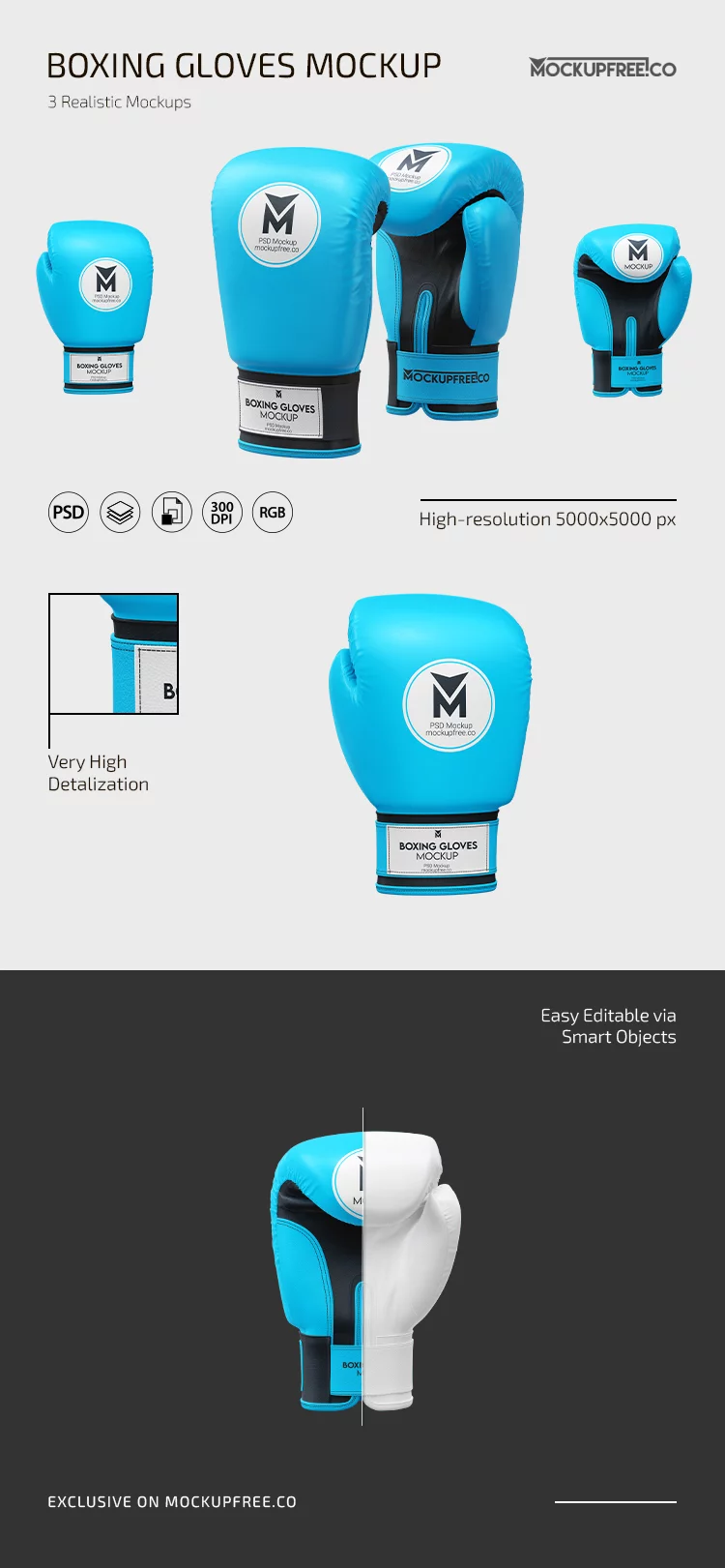 How can you adjust this mockup kit?
With a few simple edits in Photoshop, users can personalize these templates to suit their branding and creative vision. Firstly, it's possible to apply branding designs to the surface of the gloves via smart layers. You can also showcase a logotype, or write any text on different parts of the gloves, including the hand compartment and the wrist support. Additionally, you can alter the palette of the gloves and their parts. Finally, you can feature any fitting images in the backdrop. Thanks to precise texture detailing and lifelike shadowing, the customized templates will look outstanding.
Why should you download the Free Boxing Gloves Mockup pack?
Download our Free Boxing Gloves Mockup bundle today and receive three fabulous PSD mockups that accurately depict boxing gloves. What's important, this pack is available for free and includes a free license for personal and commercial use. Whether you're a designer looking to prepare captivating visuals or a business owner promoting boxing-related products, these materials are a valuable resource. Don't miss out on the opportunity to download our adjustable boxing gloves set, as it provides an excellent way to elevate your design projects and presentations!