Download the Free Double Overhead Magazine PSD Mockup Pack, and showcase your cover designs perfectly! This pack includes three distinct templates, each featuring two thin glossy vertical magazines stacked one on top of the other. Thanks to natural lighting and precise imitation of paper texture, the three models look life-like. Besides, the varying angles allow for showcasing your designs in a profound and appealing way. These materials are a must-have for graphic designers, photographers, artists, print-house owners, and other specialists. Some stress-free adjusting in Photoshop is all it takes to transfer your creations to magazine covers.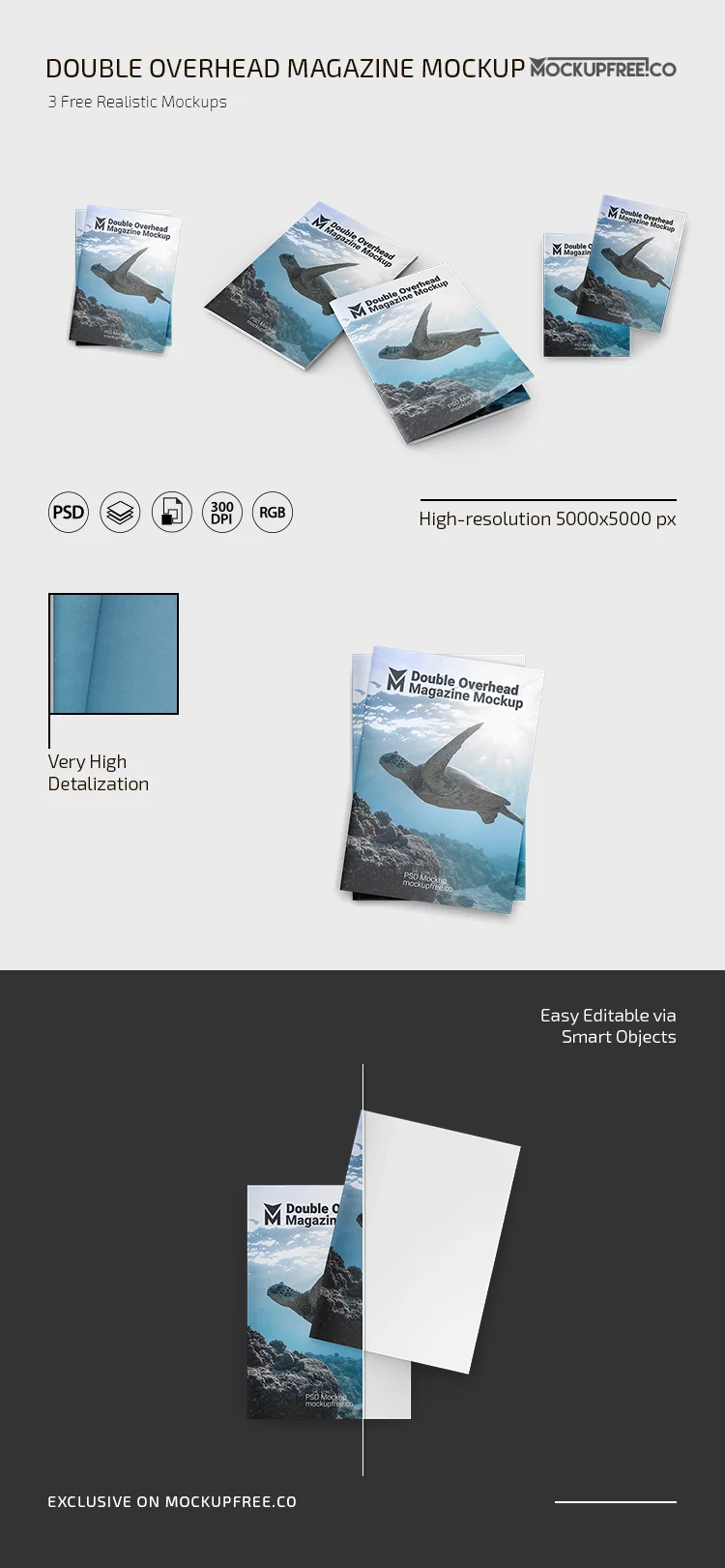 How can you edit the Free Double Overhead Magazine PSD Mockup Kit?
As soon as you open the PSD bundle in Photoshop, the magazines in it turn into placeholders. Simply proceed by transferring your creations via the well-arranged layers. Whether it's a photo, an illustration, a collage, or other artwork, they'll blend seamlessly thanks to the impeccable quality of our templates. Besides, you can add any text, and showcase a branding logotype, an apt pattern, or other graphic accents. Additionally, we suggest that you alter the angles and the scales, to find a variant that enhances your creation. Finally, don't forget that the backdrop is changeable, too.
Why should you download the Free Double Overhead Magazine PSD Mockup Set?
Download the Free Double Overhead Magazine PSD Mockup Kit! Whether you're a designer, a printer, or a photographer willing to effectively present your new artwork, this product is a find. The three samples impress with their quality and versatility. We guarantee that you can make basic edits no matter your Photoshop level. Not only is this pro-level product available at no cost, but also it comes with a free license. Therefore, you can freely use it for commerce and personal needs, not facing any restrictions or paying extra. Don't miss this fantastic pack for presenting your latest magazine cover ideas!