Download the Free Classic Coffee Mug PSD Mockup package! Our three life-like, fully adjustable models showcase a classic, medium-sized mug with a sturdy handle. With each sample showcasing the mug from a unique angle, including a gravity-defying style, these materials offer unparalleled versatility. Whether you're a graphic designer looking to create stunning product presentations, a marketer aiming to craft eye-catching promotional materials, or a business owner seeking to enhance your branding, these templates are your go-to tools. The meticulous attention to detail, realistic shadowing, and glossy textures of your mug designs will surely impress with authenticity.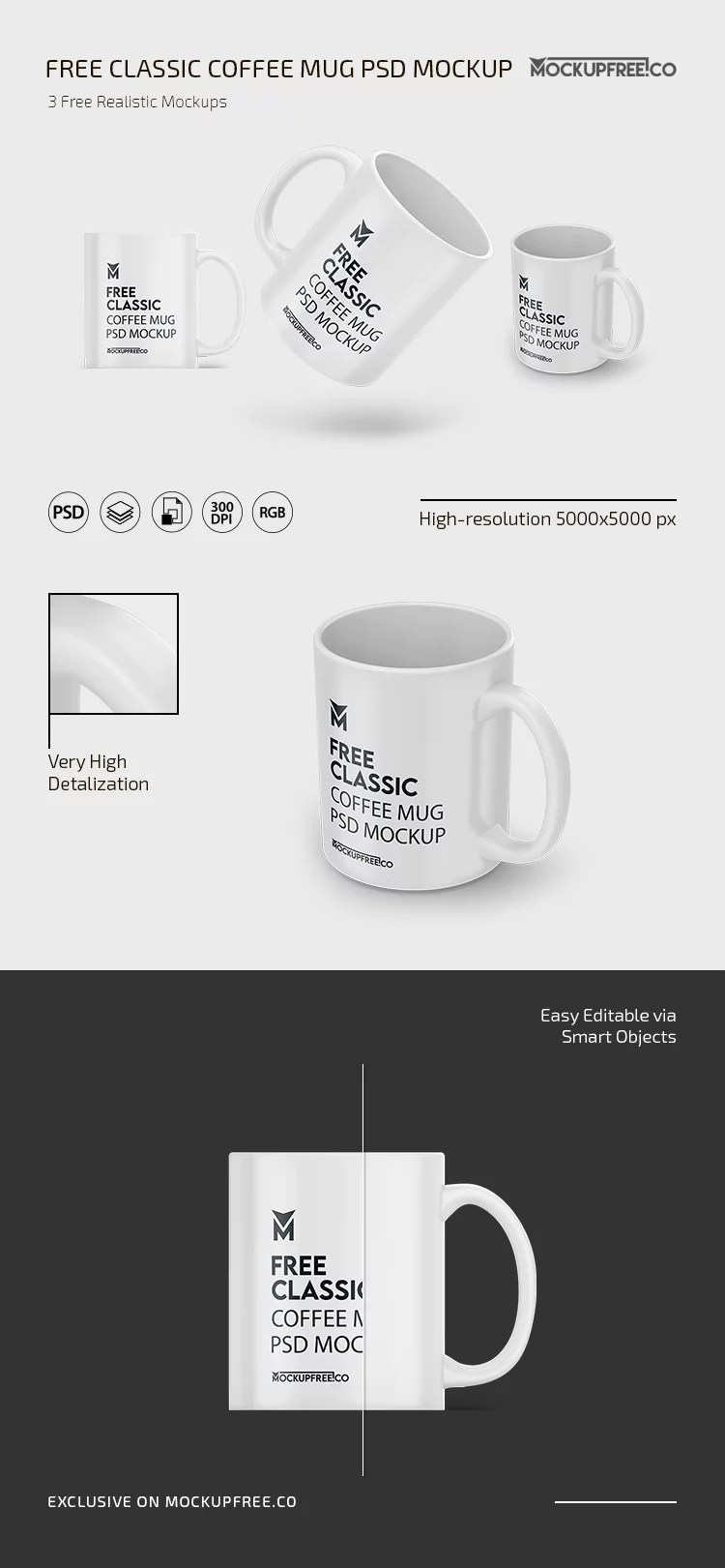 How can you adjust the Free Classic Coffee Mug PSD Mockup Kit?
Personalizing these classic cup models in Photoshop is effortless! Firstly, in the original file, you'll discover neatly labeled layers for each element, from the mug body to the shadows. Now you can utilize smart objects for a seamless replacement of the default designs with your own artwork or branding. Additionally, you can alter colors, shadows, and highlights to match your project's aesthetic. Finally, we suggest that you experiment with different textures to achieve your desired effect. With well-organized layers and user-friendly tools, this compilation caters to both experienced designers and beginners, making customization a straightforward and enjoyable process.
Why should you download the Free Classic Coffee Mug PSD Mockup Suite?
Download our Free Classic Coffee Mug PSD Mockup bundle! It assembles three adaptable samples that offer a lifelike presentation of classic coffee mugs. Ideal for graphic designers, coffee shop owners, and marketers, these templates facilitate stress-free editing in Photoshop. Whether you're crafting brand visuals, promotional materials, or personal designs, our kit ensures a professional touch. In addition to the flexible royalty-free license, this product won't cost you a dime. Don't miss the opportunity to elevate your coffee-related projects with these faultless samples!