Download our Free Book Dust Jacket Mockup PSD Template pack! It includes three professional samples that will surely elevate your creative projects. These materials feature a medium-sized hardcover book with a dust jacket, adding a touch of realism to your new designs. The first mockup showcases the book closed with the dust jacket, lying at a slight angle, creating a cozy, inviting feel. In the second mockup, with the book also closed, the partially removed dust jacket reveals a hint of the inner design, adding a layer of intrigue. Lastly, the third mockup presents the book open, with glimpses of the dust jacket on the sides, perfect for illustrating the reading experience. Graphic designers, authors, and book marketers can take full advantage of these mockups. Use them for creating book covers, promotional materials, or showcasing your latest literary masterpiece.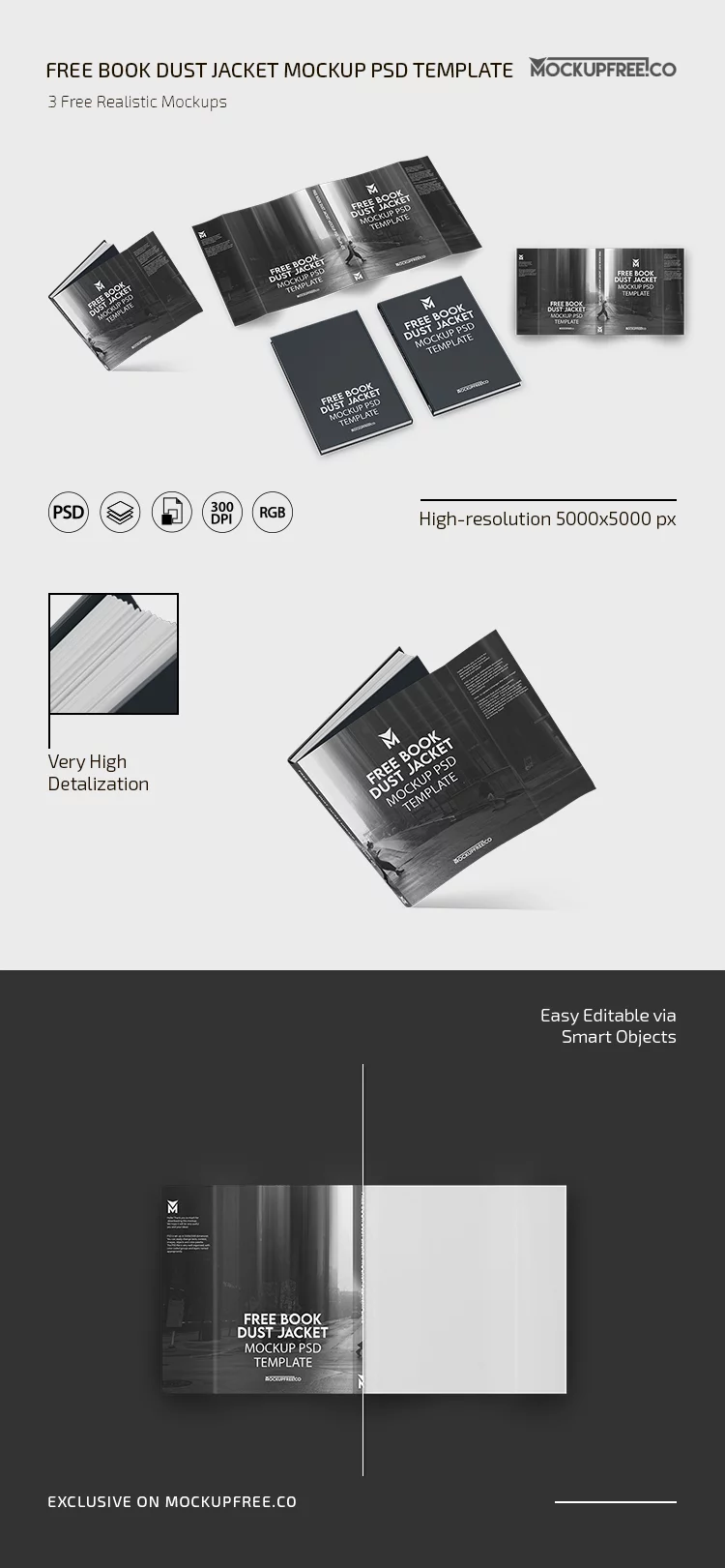 How can you adjust the Free Book Dust Jacket Mockup PSD Template Kit?
Personalizing these materials in Photoshop is simple and creative. Firstly, pick a mockup, and seamlessly swap the default dust jacket and book cover with your designs using the user-friendly Smart Object layers. Besides, feel free to adjust colors, shadows, and lighting to match the vibe you want. Additionally, you can even modify the backdrop or add special effects for that personal touch. Whether you're a Photoshop pro or just starting out, these mockups provide you with a handy way to give your book projects a unique, customized look.
Why should you download the Free Book Dust Jacket Mockup PSD Template Set?
Download our Free Book Dust Jacket Mockup PSD Template bundle! You'll have three highly realistic models at your fingertips, and what's great, they won't cost you anything! Furthermore, we add full licensing which allows for enhancing your book projects effortlessly. Whether you're a professional or a newbie, these samples give you a creative playground to feature your books in style. Don't miss out on this fantastic freebie!