Download the Free Artistic Indoor Photo Frame Mockup pack and unlock a world of creative possibilities! This remarkable bundle assembles three editable PSD samples, each showing a rectangular wooden frame. The unconventional multi-layered design is what sets these templates apart. The photos that you showcase certainly ger more depth and character . The frames have a narrow white matting, which creates a clean and elegant border and enhances the visual impact. With the frames hanging upright on a surface, their realistic shadows bring a sense of authenticity to your presentations.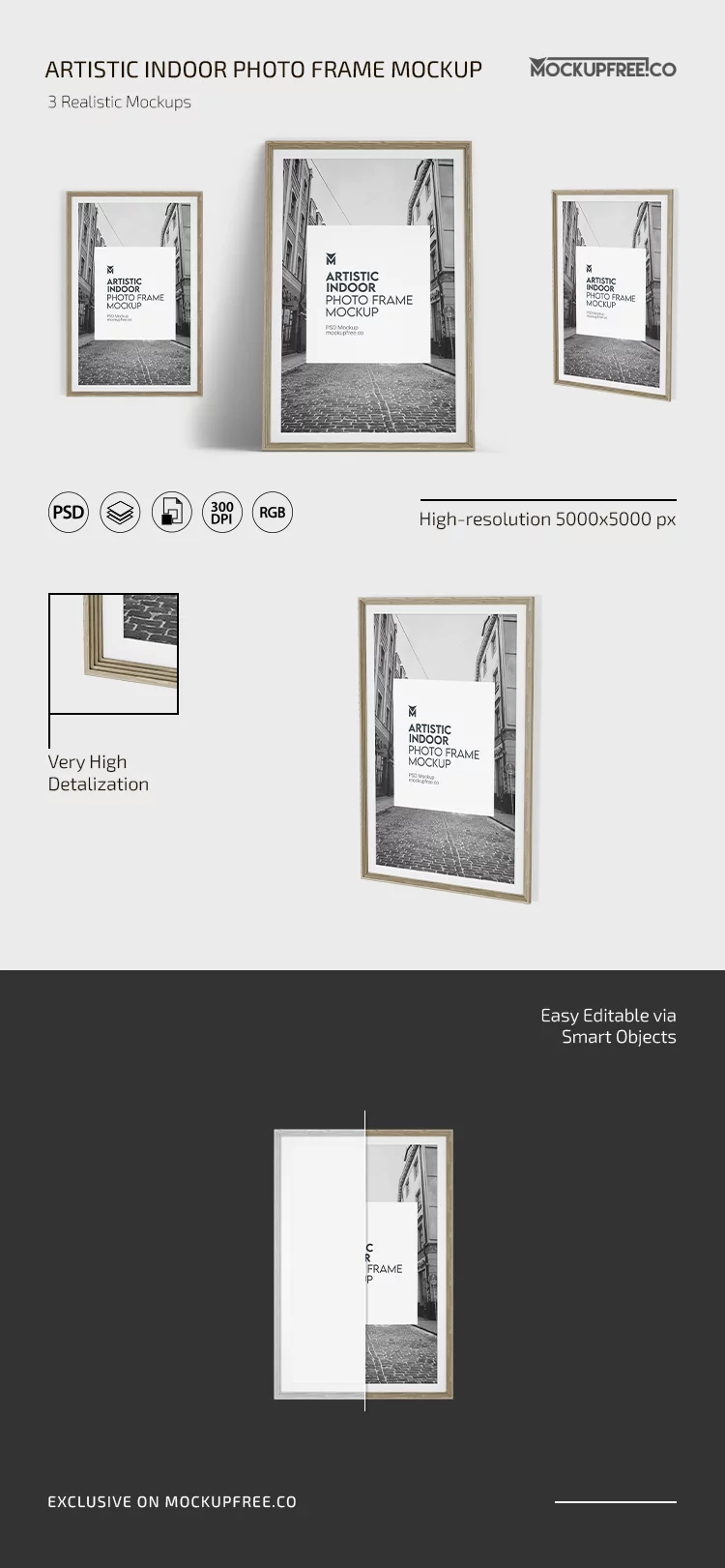 Who can benefit from using this free PSD kit?
With these excellent materials at hand, you can showcase your artwork, photographs, or designs in a professional and eye-catching manner. The pack is ideal for photographers, graphic designers, and artists. It will surely aid to impress clients, create stunning portfolios, or enhance one's website visuals. All that it takes is quick and trouble-free editing in Photoshop, and further we provide a few tips on that.
How can you adjust this bundle in Photoshop?
First off, you can apply your photo, an illustration, or another design to the corresponding space inside the frame. Secondly, it's possible to alter the backdrop and add a fitting image and text if needed. Besides, you can change the color of the wooden frame, and the matting, to align it with the featured image. Additionally, it's possible to alter the scales and shadowing. Thanks to life-like detailing, your presentation or promo materials will certainly amaze the customers.
Why should you download this set?
Download the Free Artistic Indoor Photo Frame Mockup Kit! With it, you'll get instant access to three free professional mockup samples. Besides, a free license that we offer will put no limits as you're working on your personal, promo, and commerce projects. The fantastic, life-like look of the samples along with the ease of Photoshop personalization surely are the benefits not to miss out on!