Make sure to download the Free Apple Watch Ultra Mockup PSD pack! It assembles three top-class adjustable templates that will surely elevate your digital product presentation! These mockups in gravity style showcase the latest Apple Watch Ultra model with unmatched realism and attention to detail. Two of the templates offer a single gadget from different angles. Meanwhile, the third one features a stunning pair of watches. These samples provide an accurate imitation of the glass, metal, and other textures, ensuring that your designs come to life. Ideal for graphic designers, Apple Watch app developers, and marketing professionals, our kit empowers you to create captivating visuals for a range of purposes.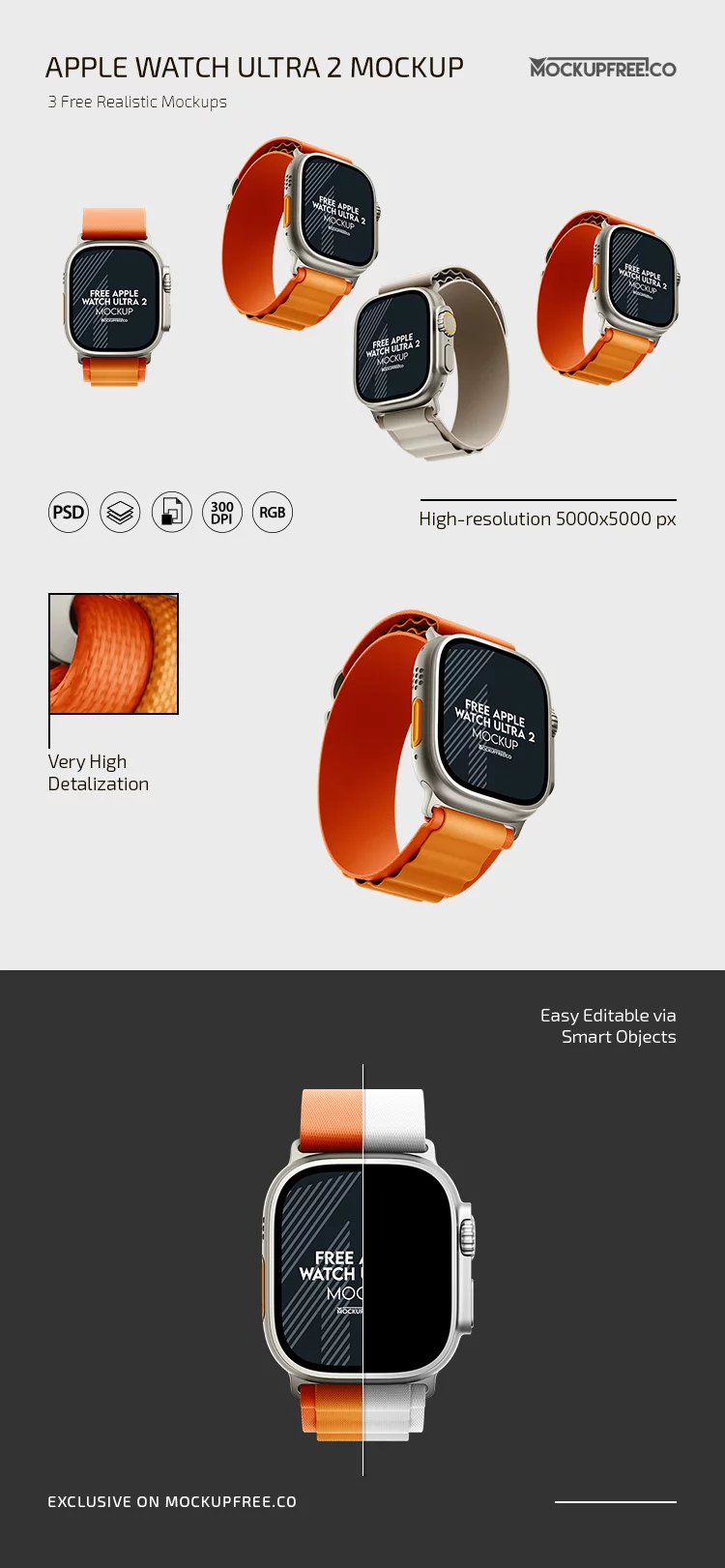 How can you personalize the Free Apple Watch Ultra Mockup PSD pack?
Customizing this gadget mockup package in Photoshop is a straightforward process. Firstly, replace the default display in any template with your designs, user interfaces, or watch faces using the Smart Object layers. Additionally, you can tailor the colors, adjust reflections and shadows, and fine-tune every detail to match your vision. With these templates, you can showcase your Apple Watch app designs, product concepts, or branding in a way that resonates with your audience. Whether you're a seasoned designer or just getting started, with this kit you'll craft striking visuals that seamlessly integrate into your portfolio presentations, marketing materials, and app showcases.
Why should you download the Free Apple Watch Ultra Mockup PSD kit?
Download our Free Apple Watch Ultra Mockup PSD bundle, and get access to three highly realistic models at no cost. This set allows you to alter your Apple Watch designs in Photoshop, offering complete creative control. Moreover, it comes with a valuable free license. Therefore, it's ideal for marketers, app developers, and graphic designers looking to present their work effectively and cost-efficiently. Go ahead, and get this unique kit now!