Download the Free 13 x 4 Paper Tube PSD Mockup Package! It offers a highly realistic, versatile solution for presenting your latest designs. Whether you're a packaging designer, a brand owner, or a marketer, these samples provide a dynamic way to feature packaging concepts. With the top easily removable, you can display your logo, images, and text on both the tube's body and its lids. The three angles allow you to prepare unique presentations, including product showcases to promotional materials. These models are perfect for bringing your packaging ideas to life and impressing clients and customers with lifelike visuals.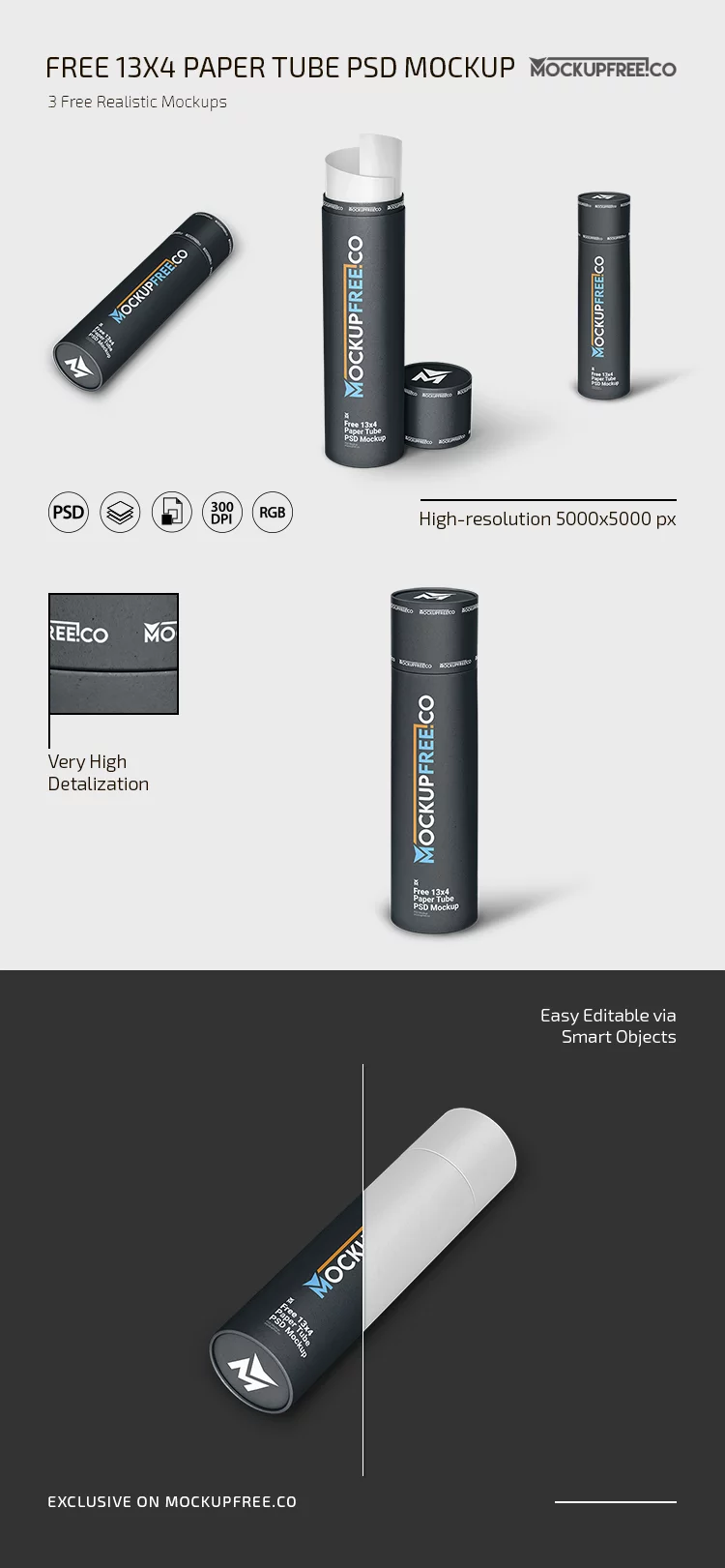 How can you customize the Free 13 x 4 Paper Tube PSD Mockup Bundle?
Customizing this mockup package in Photoshop is a smooth process suitable for both design professionals and beginners. To begin with, open the file and identify the layers for the tube, its lids, and any additional elements. To showcase your design, replace the existing content on the tube's body and lids with your branding, logos, or text using smart objects. Besides, you have complete control over colors, shadows, and highlights to match your project's aesthetics. In case you want to add a personal touch, insert your own images, illustrations, or text. Thanks to organized layers and intuitive tools, customization is effortless, whether you're a beginner or a pro. Your packaging ideas will come to life, impressing clients and customers with stunning visuals.
Why should you download the Free 13 x 4 Paper Tube PSD Mockup Pack?
Download the Free 13×4 Paper Tube PSD Mockup kit! It will become your go-to solution for lifelike packaging presentations. This versatile set caters to a wide audience, from packaging designers seeking a realistic canvas to marketers and brand owners eager to showcase their products innovatively. The easily removable top allows you to personalize not only the tube's body but also its lids, making space for branding, logos, and text. These lifelike visual materials can make any presentation more persuasive and engaging, aiding to captivate the audience. Grab our package now to elevate your packaging design game!